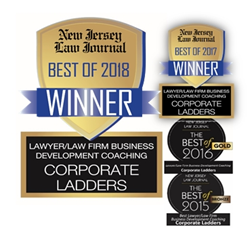 ALLENDALE, N.J. (PRWEB) October 26, 2018
Corporate Ladders, a premier coaching, training and consulting firm based in Allendale, has received the nod from the readers of the New Jersey Law Journal with the prestigious Gold Award for "Best Lawyer/Law Firm Business Development Training and Coaching" company in New Jersey. Corporate Ladders has also been inducted into the newly created New Jersey Law Journal Hall of Fame for its recognition as the top firm in 2017, 2016, and 2015.
Corporate Ladders has been in business for over 25 years and has trained thousands of attorneys, accountants, and other professional services providers. While the firm's content continues to evolve to keep up with ever changing technology and business environments, their ability to bring out the best in their clients remains constant.
According to CEO Bill Taylor, "From the start, we have always built our programs from the ground up, with an understanding of the challenges professionals face. We have never tried to make professionals into salespeople but rather help them to complement existing skills and leverage their knowledge to become a trusted advisor and great resource to their clients. Our personalized approach to coaching engages our clients, builds confidence, and helps guide them toward great results."
How does this humble firm from northern New Jersey continue to stand out amongst a crowd of business development firms from all over the country? According to Bill Taylor Jr., Sales Director and key facilitator and coach, the answer is simple; "We believe by giving clients the right tools, and supporting them with training and coaching, their chances for success multiply. Working with Corporate Ladders, many professionals experience measurable revenue increases, which yields an excellent ROI for the attorney and their firm."
ABOUT CORPORATE LADDERS
Corporate Ladders is an expert professional services coaching, consulting and training firm. We deliver customized, practical programs that result in measurable new business for attorneys, accountants, insurance, risk and banking professionals throughout the United States. For more information about our consulting, coaching or training services – delivered by dynamic, visionary, and performance-driven experts – visit our website or call 201-825-8296.
ABOUT NEW JERSEY LAW JOURNAL
Since 1878, the New Jersey Law Journal has been the "indispensable legal authority" for a state which has the fifth largest attorney population in the country. The weekly publication publishes up-to-the-minute digests of all relevant court decisions, published and unpublished, plus all state and federal court notices. For more information, visit: njlawjournal.com
Contact: Bill Taylor 201- 825-8296 or wbtaylor(at)corporateladders(dot)com
Share article on social media or email: