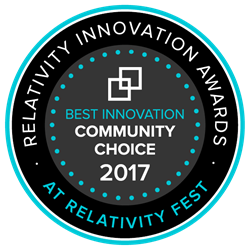 Our innovation team is always exploring ways to more closely align forensic investigation and eDiscovery services to provide our clients with a seamless workflow
NEW LONDON, Conn. (PRWEB) November 09, 2017
QDiscovery, a leader in eDiscovery and digital forensic solutions and services, announced that the company's QMobile Insight solution has been awarded Relativity's 2017 Innovation Award in the category of Best Innovation: Community Choice.
QMobile Insight offers a new approach to easily integrate mobile data into Relativity, allowing litigators to access all case data in one place. With QMobile Insight, users can review and produce mobile data the same way as other ESI, allowing them to search and analyze mobile data and quickly identify patterns in mobile data sets – which can consist of tens of thousands of texts, call records and voicemails.
"I'm extremely proud of our innovation team for creating QMobile Insight," said David Barrett, CEO of QDiscovery. "When they couldn't find an existing solution to review texts, chats, emojis and other data found on cell phones, they created one. We're thrilled to win the Community Choice award, especially among such strong competition."
The Relativity Innovation Awards are an annual competition celebrating organizations that use Relativity in creative ways, solving difficult or unique challenges within and outside of e-discovery. Relativity announced the winners during a special ceremony at Relativity Fest, the annual eDiscovery conference held October 22-25 in Chicago. This three-day event brought together nearly 2,000 attendees from around the world to engage in panel discussions, hands-on labs, breakout sessions, and insights from both Relativity team members and end users.
"We're excited to congratulate QDiscovery on winning Best Innovation: Community Choice at the 2017 Relativity Innovation Awards," said Perry Marchant, vice president of engineering at Relativity. "By tackling mobile discovery with QMobile Insight, they inspired our community by showing how new and challenging data types can be handled by the Relativity platform."
QDiscovery offers a full spectrum of eDiscovery and digital forensics services. "Our innovation team is always exploring ways to more closely align forensic investigation and eDiscovery services to provide our clients with a seamless workflow from initial investigation through the final day of a trial," said Barrett. "Expect to see future innovations from QDiscovery as new data types emerge as essential evidence in litigation."
About QDiscovery
QDiscovery is a premier provider of electronic discovery and digital forensic services across the entire EDRM spectrum. Our dedicated team of eDiscovery professionals, forensic experts and litigation support specialists serves corporations, law firms and government enterprises, helping them manage complex matters and reduce the expense of litigation. Our single source platforms allow clients to process and review faster, leverage advanced analytics, streamline workflows, and automate complex productions, ultimately translating to lower costs. Our foremost focus is to provide clients with unparalleled customer service and cost-effective solutions. QDiscovery was named one of the 20 Most Promising Legal Technology Solution Providers 2017 by CIOReview. Contact solutions(at)qdiscovery(dot)com or visit http://www.qdiscovery.com for more information.
About Relativity
At Relativity, we make software to help users organize data, discover the truth, and act on it. Our e-discovery platform is used by more than 13,000 organizations around the world – in the cloud, on-premises, or both – to manage large volumes of data and quickly identify key issues during litigation, internal investigations, and compliance projects. Relativity has over 160,000 active users in 40+ countries from organizations including the U.S. Department of Justice, more than 70 Fortune 100 companies, and 199 of the Am Law 200. As a platform, Relativity also allows developers to design, build, and integrate applications that extend its functionality. Relativity has been named one of Chicago's Top Workplaces by the Chicago Tribune for six consecutive years. Please contact Relativity at sales(at)relativity(dot)com or visit http://www.relativity.com for more information.
Share article on social media or email: