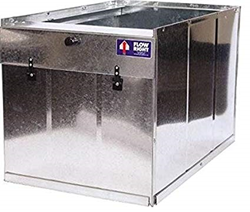 DENVER (PRWEB) February 25, 2019
On February 15, 2019, the eight jurors empaneled before Federal Judge Raymond Moore of the U.S. District of Colorado returned a unanimous verdict in Colorado Box Company's favor, awarding the plaintiff lost profits and finding willful infringement by S&H's president, Mr. Von Honnecke. The jury also rejected defendants' claims that the asserted U.S. Patent No. 8,999,029 is invalid, which included findings that Colorado Box Company's invention was commercially successful, was praised by others in the field and was copied by others. (Colorado Box Company, Inc. v. Von Honnecke et al., Case No. 15-cv-02785, Dkt. 244).
The original complaint was filed by Colorado Box Company in December, 2015, and asserted that S&H Sheet Metal, Inc., Mr. Von Honnecke and Mr. Chase Honnecke infringed multiple claims of the '029 Patent, and did so willfully. The jurors largely agreed. According to the verdict, all three accused generations of defendants' "Return Air Filter Box" directly and indirectly infringe the '029 Patent. More specifically, S&H was found to directly infringe all of the asserted claims by making the accused furnace filter boxes, and all defendants were found to have contributed to infringement by others, and to have induced others to infringe upon Colorado Box Company's novel method claims (for assembling a furnace filter box). The verdict states that Colorado Box is entitled to lost profits of $475,000, which may be enhanced by the Court in light of the jury's willfulness finding. In addition, the number of infringing units may be adjusted upwardly to account for sales occurring after September 14, 2018.
Plaintiff Colorado Box Company is headquartered in Denver, and is the exclusive provider of the FlowRight furnace filter boxes covered by the '029 Patent. The patented products are available in over 400 locations nationwide, including through Johnstone Supply and various regional distribution centers. The founders of Colorado Box Company, Messrs. Steve Brandt and Jim Walters, are the inventors of the '029 Patent, which they applied for in 2012. The '029 Patent's validity was challenged during the course of the litigation, but was upheld by the jury's verdict.
Colorado Box Company was represented at trial by Ian R. Walsworth, Alyssa Sandrowitz and Bill Mauke of Lewis Brisbois Bisgaard & Smith LLP.
Any inquiries regarding this release should be directed to Info (at) flowrightbox (dot) com.
Share article on social media or email: