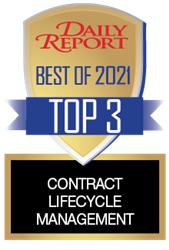 "This recognition serves as yet another testament to our industry leadership as we empower our user base with a user-friendly, seamlessly-integrated, low-friction, and easily scalable contract lifecycle management software suite." – Bradford Jones, VP of Sales & Marketing at CobbleStone Software
PRINCETON, N.J. (PRWEB) June 14, 2021
CobbleStone Software – a Leader in contract management software solutions according to Forrester - is pleased to announce that they have been named a winner in the Law.com Daily Report's eleventh annual "Best of" survey – published by ALM Media.
Every year, the Daily Report – a daily legal newspaper based in Atlanta, Georgia, United States – has their business department conduct a poll of the Georgia legal community regarding the best products and services for their legal operations. The Best of 2021 report lists the top three ranking organizations for a myriad of categories – as voted on by the Daily Report's readers.
CobbleStone Software has been listed as one of the three top-ranking organizations honored in the Contract Lifecycle Management category.
As can be seen in the Best of 2021 report, CobbleStone Software users can "see contract risk from a mile away" with visibility provide by CobbleStone Contract Insight® - CobbleStone Software's integrated contract lifecycle management software solution for AI-based contract management, vendor management, eProcurement, and eSourcing processes.
For complete contract lifecycle automation, CobbleStone Contract Insight offers:
"We at CobbleStone are honored to be recognized by the legal community as leaders in contract lifecycle management in the esteemed Daily Report's 'Best of 2021' survey publication – presented by ALM Media," says Bradford Jones, Vice President of Sales & Marketing at CobbleStone Software.
"This recognition serves as yet another testament to our industry leadership as we continue to empower our loyal user base with a uniquely user-friendly, seamlessly integrated, remarkably low-friction, future-minded, and easily scalable contract lifecycle management software suite to support the various CLM software needs of organizations from a variety of industries in both public and private sectors."
Get started with CobbleStone Contract Insight to streamline, automate, and simplify contract lifecycle management. Book a free demo today!
About CobbleStone Software:
CobbleStone Software is a visionary leader in enterprise contract lifecycle management, vendor management, eProcurement, and eSourcing software solutions and has been trusted for over 20 years by thousands of users. CobbleStone's contract management solutions provide contract and vendor tracking, configurable email alerts, calendar notifications, contract workflow management, robust security options, authoring of contract templates with dynamic clauses, revenue/cost management, full-text indexing and searching, vendor/client ratings, document version control, custom reports, electronic signatures, more intelligent contracts with artificial intelligence and machine learning, and more. Moreover - CobbleStone Software, as a software provider, remains SOC 1 and SOC 2 compliant for optimal security.
Contact CobbleStone Software today to schedule a free demo and obtain pricing information at Sales@CobbleStoneSoftware.com or call them at 866-330-0056.
To stay up to date on CLM industry trends and news, subscribe to CobbleStone's Contract Insights blog.
Follow CobbleStone Software on LinkedIn, Facebook, and YouTube.
Share article on social media or email: