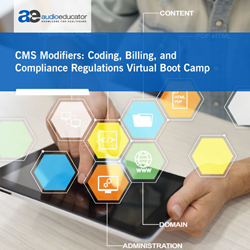 Prevent payment denials and reduce compliance risk with the correct use of modifiers.
Durham, NC (PRWEB) August 17, 2018
AudioEducator, a division of audio conference and corporate education leader ProEdTech, will host a 180-minute, two-session Virtual Boot Camp, titled "CMS Modifiers: Coding, Billing, and Compliance Regulations" with industry veteran Elin Baklid-Kunz on Thursday, August 23, 2018 at 1:00 PM ET.
Correctly applying modifiers isn't always as easy as it seems. Medical coding modifiers can be confusing – and they keep changing every year. Providers often use modifiers inappropriately, leading to claim denials, wasted follow-up time, and even government investigations.
In this Virtual Boot Camp, medical coding compliance expert Elin Baklid-Kunz will provide insights on how to prevent reduced payments and denials, and combat government scrutiny. Attendees will learn about the different types of medical coding modifiers, the differences between CMS and other payers, the common mistakes to avoid, and the best practices to follow. Baklid-Kunz will also help attendees to understand (with examples) what to look for when auditing – and offer tips on how to be in compliance and ensure correct payment (along with the OIG report on modifiers).
After attending this Virtual Boot Camp, attendees will gain confidence in their ability to correctly recognize, distinguish and use medical coding modifiers, and include them in their practice audit plan.
This information-packed Virtual Boot Camp will provide valuable insights to medical coding professionals, billing specialist, practice managers and other related compliance professionals in two 90-minnute sessions, as shown below:
Session Details
Session 1: Types of Modifiers, Compliance Risk and Common Mistakes to Avoid
Length: 90 minutes | Time: 01:00 P.M. EST - 02:30 P.M. EST
    Different types of medical coding modifiers: Definitions, global package and multiple procedure modifiers
    Global period and the differences between CMS and other payers: Global period – Medicare vs. private payers
    Compliance risk and common mistakes
    OIG report on modifiers
Session 2: How to Use Modifiers, Avoid Misuse and Incorporate Best Practices in Your Audit Plan
Length: 90 minutes | Time: 03:00 P.M. EST - 04:30 P.M. EST
    How to use medical coding modifiers with actual examples: E/M, global package, and multiple procedure modifiers
    How to tackle problem m medical coding modifiers, understand facts and avoid misuse (including best practices for high risk modifiers 59 and 25)
    How to incorporate medical coding modifiers into your practice's audit plan using the best practices for risk mitigation
For more information and to register, visit: https://www.audioeducator.com/virtualbootcamp/how-to-use-different-types-of-modifiers
Get $40 off on our conferences and webinars. Use Code PRWEB40 on checkout (applicable for all purchases).
About ProEdTech
ProEdTech is a leading source of knowledge and training for professionals in over 15 industries, serving individuals, businesses and their employees around the globe. It offers webinars, online conferences, seminars, boot camps, books, DVDs, white papers, industry reports and other learning tools from industry experts and insiders who provide a fresh perspective on key issues, trends and regulations in order to simplify governance, risk and compliance (GRC) for enterprises and industry professionals.
ProEdTech's AudioEducator webinars offer updates, regulatory knowledge and information on the latest news in various medical specialties, as well as coding and billing updates, and analysis of regulations that affect ambulatory surgical centers, home health, long term care and hospice facilities, hospitals and healthcare systems, health insurers and physician practices. Webinars are also offered through AudioSolutionz in the technology, human resources, construction and housing, ICT and telecom, manufacturing, consumer packaged goods and retail, safety and security, transportation, energy and environment, education, trade, and chemicals industries. ProEdTech's Eli Financial platform offers tax and banking professionals, focusing on providing high-quality online training products customized for U.S. lenders and tax practitioners that include the latest updates from the IRS, CFPB and other regulatory authorities. ProEdTech regularly provides professionals the opportunity to get answers to their most complex questions directly from experts, without having to attend costly live conferences. To learn more, visit: http://www.proedtech.com.
Share article on social media or email: