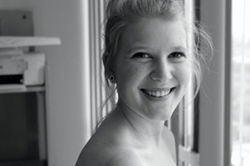 Tierney has a long, difficult life ahead of her; these funds will help her obtain all the necessary medical care for the remaining decades of her life.
CHICAGO (PRWEB) January 16, 2018
The City of Chicago and its insurance carrier have paid $115 million to a young woman who was paralyzed by a collapsed pedestrian shelter at O'Hare International Airport.
The settlement was reached after the city of Chicago's attorneys challenged a record $148 million jury verdict that was awarded on August 23, 2017 in a Cook County courtroom.
According to the complaint, on August 2, 2015 around 2:40 p.m., 24-year-old Tierney Darden was standing with her mother and 19-year-old sister outside of the airport near the outer lane of the lower level street that accesses Terminal 2 ("2 W. Terminal Street") by Vestibule 2C. The three women had just returned to Chicago from Minneapolis where they were shopping for bridesmaid dresses for a wedding. A storm rolled through the area as the women were waiting to be picked up and a pedestrian shelter weighing more than 750 pounds became loose and fell onto Tierney.
Tierney, who was a dancer and college student at the time, sustained dislocated vertebrae at T11-T12, which resulted in a severed spinal cord that left her paralyzed from the waist down. Pain experts testified Tierney's spinal cord "stretched until it popped and ripped."
"My face hit the ground, there was a crack and a white light and everything went numb. I knew I was paralyzed. The pain I feel every day is like torture," Tierney said during the August trial.
It was determined the shelter that injured Tierney had missing bolts. An investigation later found other shelters at O'Hare Airport were poorly maintained, also with missing bolts, corroded parts, or broken brackets. According to court documents, five months prior to trial, the city of Chicago admitted wrongful conduct for the incident that dramatically changed Tierney's life. During the trial, the Plaintiff turned down a $30 million offer.
The record $148 million verdict was obtained after a 10-day trial by attorneys Patrick A. Salvi, Jeffrey J. Kroll, Tara R. Devine, Patrick A. Salvi II, and Eirene N. Salvi of the Illinois personal injury law firm Salvi, Schostok & Pritchard.
Following the trial, the City of Chicago filed post-trial motions arguing, among other things, that the verdict was "excessive." After an extensive mediation with Hon. Donald O'Connell, Tierney's attorneys and the insurance carrier for the City of Chicago agreed upon a $115 million settlement. This settlement represents the largest personal injury settlement for an individual plaintiff in Illinois state history, according to the Illinois Jury Verdict Reporter. The prior highest reported Illinois personal injury settlement for an individual plaintiff was a $47.5 million medical malpractice settlement secured in 2017.
"We felt the entire verdict was supported by the evidence. In post-trial motions, the defendant pointed out that the jury awarded $32 million for future medical expenses, wherein our life care plan called for $15 million. Although we were prepared to show the $32 million was justified, we had to consider this. Further, I believe anyone who sat through the trial would not find the award to be excessive," lead plaintiff's counsel Patrick A. Salvi said. "Although we believed the verdict would have been upheld on appeal, when weighing the risks and benefits, we felt this was a fair compromise. Tierney has a long, difficult life ahead of her; these funds will help her obtain all the necessary medical care for the remaining decades of her life."
It is important to note that the city of Chicago was insured up to $500 million for any incidents occurring at O'Hare.
For more information or to obtain additional editorial materials, please contact Marcie Mangan at (312) 372-1227 or mmangan(at)salvilaw(dot)com.
Share article on social media or email: