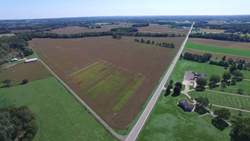 This land is as good as you will find from an agricultural prospective
ASHLAND, Ohio (PRWEB) October 26, 2018
The City of Ashland, Ohio has selected RES Auction Services to sell 357 Acres of productive farm land at absolute, public auction on Saturday, November 17, 2018 at 11 AM. The auction will be held on the property at 1049 US Route 250 N, Ashland, Ohio 44805. Ashland natives and auctioneers Andy White and Brock Rader will lead the RES Auction Services Team as they offer the property in six (6) desirable parcels as well as offering the 357.6 acres in its entirety. The property will be sold without minimum or reserve. The property features well drained and very fertile soil with ideal accessibility to US Route 250 and multiple sites suitable for building.
"We are pleased to be chosen by the Mayor of Ashland. Matt Miller, to sell this exceptional property," stated Andy White, Co-owner of RES Auction Services. "This land is as good as you will find from an agricultural prospective yet also offers great long-term investment opportunities with State Route 250 exposure and potential gravel explorations."
"The property is offered in six parcels or pieces to allow for maximum bidder participation and optimal land use," offered Auctioneer Brock Rader. "As Ashland County natives it is an honor help the City of Ashland sell this property to the public."
Interested bidders are invited to an open house with guided ATV tours of the property on Monday, October 29th from 4-6 PM and Friday, November 2nd from 3-5 PM. Full details are available at http://www.RES.bid or by calling the Auctioneers, Andy White at 419-651-2152 or Brock Rader at 419-651-7994
RES Auction Services is a northeast based Ohio Auction Firm specializing in the sale of Real Estate and Equipment at Auction. With offices in Ashland and Millersburg as well as an Equipment Auction Yard in Wooster, RES Auction Services focuses on serving the Ashland, Wayne and Holmes County Agriculture Counties and Residential and Commercial Real Estate Markets.
Share article on social media or email: