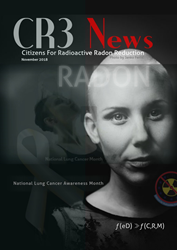 Sharing stories, "walking the talk" and "getting the right people on the bus" will make the new normal look different when it comes to radon reduction.
WATERLOO, Ill. (PRWEB) November 01, 2018
November: Lung Cancer Awareness Month
It's time to stop dancing around!
Citizens for Radioactive Radon Reduction advocacy campaigns will include awareness about Radon in Water.
Citizens for Radioactive Radon Reduction revealed that it's beginning a journey of inclusion in 2019. The vision – Radon Partnership – provides an opportunity for greater awareness growth and a new value focus.
"Our strategic intent is to expand the engagement of our members and partners with CR3 beyond the present radon atmosphere," said Gloria Linnertz, Director. "We'll achieve this by bringing about greater awareness regarding radon and it's affects on water. CR3 News Magazine will include strong articles that highlight the growing danger of radon in water; especially where there are Marcellus Shale rock formations and other areas of fracking."
CR3 also announced its new mission of partnering with other organizations who have a mission of bringing about awareness regarding gas drilling contamination. Collaborative groups and channel partnerships will develop stronger awareness through best practices and lead generation. Cross-channel partnerships and relationships will be established and highlighted in the 2019 CR3 News Magazine issues.
Another strong action will be the focus on next-generation leader engagement and continued membership recruitment through content and leadership development. "With a membership community in over 15 states, CR3 members are the driving force behind the organization and its growth," Gloria said. "We recently gained membership from Alaska and Brazil".
Once you test and fix the radon problem, the final step is to encourage potential victims to talk with their doctors. Organizations that have free health assessments for those who have been identified as having a potential health risk will be sought and we will assist them with their awareness programs.
Citizens for Radioactive Radon Reduction (CR3) is an non-profit community of radon testers, mitigators & product owners and, most of all … survivors who work to educate their communities about the serious dangers of radon.
Contact Information
Gloria Linnertz, Director
Citizens for Radioactive Radon Reduction http://www.citizens4radonreduction.org
(618) 830-4660
Jacquelyn E.Nixon, Publisher
Citizens for Radioactive Radon Reduction
(412) 961-1980
CR3 News Magazine November Issue - Direct Link: https://joom.ag/rWba
Facebook: https://www.facebook.com/citizens4radonreduction.org/
Share article on social media or email: