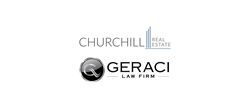 We are excited about this joint program with Geraci and what it will achieve for our partners.
CHARLOTTE, N.C. (PRWEB) June 17, 2021
Churchill Real Estate ("Churchill"), a real estate investment firm focused on creating long-term partnerships via efficient capital deployment to the business purpose lending space, today announced the launch of its new table funding program. Together with Geraci LLP ("Geraci"), the industry leader in legal services, Churchill's focus is to bring institutional capital into the mortgage lending space to best serve their partners and the industry at large.
Churchill is a veteran in nearly every aspect of the mortgage lending space, giving them unique insight and perspective to be an efficient and optimal capital provider. Despite the uncertainty surrounding the COVID-19 pandemic, Churchill continued to provide liquidity to originators, increasing Churchill's market share and providing much-needed capital flow for the industry. Churchill has retained the relationships established during this time and strives to continuously grow them.
"Before adding this table funding program, we felt there was a missing piece," commented Sarper Beyazyurek, managing director at Churchill. "We always strive to add value for our partners, but our overall process was incomplete. Now we have a full-stack, one-stop-shop solution to solve their liquidity problems. We made the decision to partner with Geraci for this new program given the breadth of services they provide, ability to execute, and their reputation in this market. We are excited about this joint program with Geraci and what it will achieve for our partners."
Churchill tapped Geraci, the nation's largest law firm focused on the representation of non-bank lenders, to be the designated legal counsel to execute Churchill's new nationwide program. Widely regarded as the industry leader in non-conventional mortgage lending, Geraci's large team of legal experts paired with Lightning Docs™, their cutting-edge business purpose document automation platform, affords Churchill the opportunity to efficiently deploy capital at breakneck speed. Churchill and Geraci believe in partnering with their clients, and this program provides yet another avenue for the two organizations to serve private lenders and originators nationally.
"Churchill has established themselves as an innovative market maker, providing capital solutions for the private lender marketplace," commented Nema Daghbandan, partner at Geraci LLP. "Prior to Churchill, there were separate institutions that provided lines of credit, warehouse facilities, and wholesale lending programs, but nobody provided all these solutions in one shop. By creating their new table funding program, Churchill demonstrates that they remain at the forefront of solving capital problems."
Due to Churchill and Geraci's parallel dedication to solving complex industry problems and prioritizing client relationships, a strategic relationship between these two hyper-focused firms will contribute to their shared goal of growing the private lending industry.
About Churchill Real Estate
Churchill Real Estate is a real estate investment firm operating since 2014 to capitalize on United States real estate debt, equity, and distressed opportunities. The firm's Principals have over 100 years of combined real estate experience with strong track records of investing and asset managing billions of dollars in US real estate. Churchill was founded to take advantage of bespoke, point-in-time opportunities throughout real estate market cycles with primary focus on downside protection while optimizing risk adjusted return. Churchill's value proposition is centered around the breadth and depth of experience of its management team as well as its development of proprietary technology platforms. For more information about Churchill, visit our website at https://churchill-funding.com/.
Connect with Churchill on LinkedIn
About Geraci LLP
Geraci LLP is the nation's largest law firm dedicated almost exclusively to the private/non-conventional lending space and is the leading legal resource for specialty lenders, asset-based lenders, private lenders, and non-bank institutions. Our legal departments include Banking & Finance, Corporate & Securities, and Litigation & Bankruptcy, while our Geracicon conference line provides networking and educational opportunities to the industry at large. For more information on Geraci LLP, visit our website at: https://geracilawfirm.com.
Connect with Geraci on LinkedIn
Share article on social media or email: