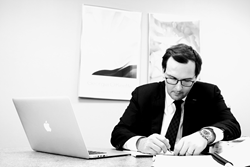 It's a true honor to be recognized by the AILC as one of the 10 best lawyers in Missouri. It's a reflection of the hardwork my firm has done in the area of criminal defense law. - Chris Combs
ST. LOUIS (PRWEB) June 01, 2018
Christopher Combs, a criminal defense lawyer in St. Louis, MO, has been nominated as a member as one of the 10 best lawyers in Missouri under the age of 40 by the American Institute of Legal Counsel. The award is a prestigious professional designation that comes at a time when Combs Law Group is garnering a strong local reputation in St. Louis as one of the best criminal defense lawyers around. Membership is limited to the 10 best attorneys in Missouri who exemplify a strong level of competency as a criminal defense lawyer and have demonstrated outstanding results for their clients in the past 12 months.
As stated on the Membership website:
-The "10 Best" is a prestigious honor for the Attorney as each Attorney must:
-Be formally nominated by the Institute, a client, and/or a fellow Attorney;
-Have attained the highest degree of professional achievement in his or her field of law; and
-Having done so with an impeccable Client Satisfaction rating.
Many Attorneys can achieve high degrees of success but this is often times at the expense or satisfaction of the most important person in the case- the client. American Institute's Criminal Law Division looks for Attorneys that have achieved unparalleled success but most importantly have done so for the benefit of their client. Very few Attorneys can do so and our organization recognizes this significant achievement.
Our rating system helps clients throughout the United States make educated decisions when it comes to choosing their attorney. Membership is an exclusive honor and extended only to those select few who have reached the top of their profession while doing so with the client's satisfaction being of the most paramount importance.
In recent years Christopher Combs (and the firm Combs Law Group) has established himself as one of the highest rated criminal defense attorneys, according to Google Reviews. With an overall rating of five stars across 38 client reviews, Combs Law Group is showing potential clients why they should strongly consider the him and his firm for any criminal defense work.
Christopher began his career at a local powerhouse of criminal defense law, Rosenblum, Schwartz, Rogers, & Glass P.C. in early 2014. But it wasn't long before Christopher decided to pursue his dream of running his own firm so that he could deliver a personalized approach of legal representation to St. Louis clients. Christopher earned his juris doctorate degree from Saint Louis University Law School, and that's not the extent of his local ties. Christopher was born and raised in St. Louis and he attended Country Day High School. So he has an emotional attachment to St. Louis and has strong local connections within both the general community and also the legal community. Those local ties have allowed him to quickly establish himself in the legal community.
So if you live the St. Louis area and you're looking for a criminal defense lawyer or a DWI lawyer, visit Combs Law Group today, the premiere criminal defense attorney.
Practice Areas For Combs Law Group:
St. Louis Criminal Defense Lawyer Services
St. Louis DWI Lawyer Services
St. Charles DWI Attorney Services
St. Louis DUI Lawyer Services
St. Louis Drug Possession lawyer Services
Share article on social media or email: