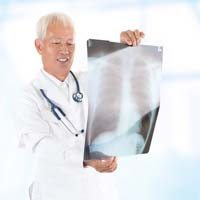 All 80 cases of non-small cell lung cancer and 15 cases of carcinosarcoma were BAP1 positive.
RALEIGH, N.C. (PRWEB) October 25, 2017
Researchers at China's Zhejiang Cancer Hospital say their evaluation of people with pleural mesothelioma or non-small cell lung cancer shows BAP1 is a valuable way to tell the difference. Surviving Mesothelioma has the full story. Click here to read the article now.
The study included 22 pleural mesothelioma patients, 80 patients with lung cancer that had spread to the pleural membrane, and 15 people with carcinosarcoma.
"All 80 cases of non-small cell lung cancer and 15 cases of carcinosarcoma were BAP1 positive," writes lead investigator ZY Guo. "In contrast, 64 percent (14/22) of malignant mesotheliomas lost BAP1 expression."
The report in the Chinese Journal of Pathology suggests that BAP1 testing can not only help distinguish pleural mesothelioma from other types of cancer, but can be used to improve diagnostic accuracy and facilitate earlier treatment.
"We know that mesothelioma survival is closely linked to early and accurate diagnosis," says Alex Strauss, Managing Editor for Surviving Mesothelioma. "If BAP1 testing can improve diagnostic accuracy for this hard-to-diagnose cancer, it also has the potential to improve pleural mesothelioma outcomes."
A summary of the study's findings is now available on the Surviving Mesothelioma website in an article titled BAP1 Test Offers More Accurate Mesothelioma Diagnosis.
Guo, ZY, "Loss of BRCA associated protein 1 expression in malignant mesothelioma and its diagnostic application", October 8, 2017, Chinese Journal of Pathology, https://www.ncbi.nlm.nih.gov/pubmed/29050072
For more than a decade, Surviving Mesothelioma has brought readers the most important and ground-breaking news on the causes, diagnosis and treatment of mesothelioma. All Surviving Mesothelioma news is gathered and reported directly from the peer-reviewed medical literature. Written for patients and their loved ones, Surviving Mesothelioma news helps families make more informed decisions.
Share article on social media or email: