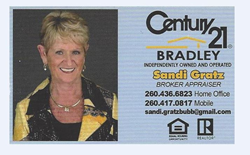 However, if armed with knowledge the chances for success are manifold.
Past News Releases
FORT WAYNE, Ind. (PRWEB) December 15, 2017
Investing in real estate for the first time can be quite daunting and nerve-racking for the novice investor who has never before had to deal with tenants. "However, if armed with knowledge the chances for success are manifold," said Realtor Sandi Gratz, of Century 21 Bradley Realty, Inc., who has been a real estate professional since 1969.
To better educate first-time real estate investors on rental property, Gratz lists the following seven tips:
No. 1: Single family vs.the multi-family. "With the single family home the tenants tend to stay longer and treat the property as if it were their own, and the properties are easier to rent, sell and get financed," said Gratz. "Multi-family is harder in all of those categories."
No. 2: Screen prospective tenants. This includes gathering all their personal information, including Social Security number and driver's license, as well as checking their credit.
"Check for evictions, judgements and collections, criminal backgrounds and their rental history with their previous landlord. Be sure to verify that the name the prospective tenant gives to you as their landlord actually owns the property," added Gratz.
No. 3: Conduct quarterly inspections on the property. "Let the tenant know that these will happen," stressed Gratz, "as it encourages the tenant to take care of the property. It is important to assure the neighbors that, although the property is a rental, you have full intentions of keeping the property in good condition so as not to have a negative effect on home values in the neighborhood."
No. 4: Verify that the tenant understands the details of the lease and what is expected of them as well as the due date and what the late fee will be. Express the difference between a rental deposit and damage deposit. "The damage deposit does not go towards the last month's rent; it only goes towards damages," noted Gratz.
No. 5: Animals could be a liable situation. Be sure to find out the breed and size of any dogs. Inform the tenant that they are not allowed to post Beware of Dog signs as this is telling the public that the dog is mean and vicious and this sets the tenant up for a possible lawsuit if something bad happens.
No. 6: When the tenant vacates make sure to have correct forwarding addresses and contacts of other people that know the tenant. "This way if a situation does arise that requires information from or about the tenant, you can get ahold of them," said Gratz.
No. 7: Have a good list of maintenance people. "This is something many people forget about," concluded Gratz. "You don't want to spend a lot of time at the last-minute trying to find someone and delay getting repairs taken care of. Be sure to verify that the maintenance person you hire is responsible, trustworthy and knowledgeable."
No. 8: Keep in mind location. "Finally and perhaps one of the most important things to consider is, location, location, location," concluded Gratz.
About Sandi Gratz, Century 21 Bradley Realty, Inc.
Century 21 Realtor Sandi Gratz serves Allen, Dekalb, Steuben, Noble, Whitley, Kosciusko, and Wells County in IN. Sandi is a Graduate, Realtor Institute, member of the Fort Wayne Board of Realtors, National Association of Realtors and is a State Certified Appraiser. For more information, please call (260) 417-0817, or visit http://www.sandigratzbubb.c21.com. Century 21 Bradley Realty is located at 2928 E. Dupont Rd., Fort Wayne, IN 46825.
For media inquiries, please call the NALA at 805.650.6121, ext. 361.
Share article on social media or email: