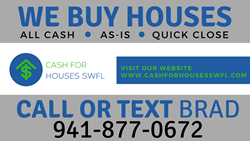 If you want to sell your Southwest Florida house… we're ready to give you a fair all-cash offer
NAPLES, Fla. & The Southwest Florida Area (PRWEB) January 26, 2018
There are many cash, quick close options available to Southwest Florida property owners. Although many such deals offer lucrative terms and benefits, not all are actually profitable or even ethical. According to Cash For Houses SWFL, Florida's trusted property purchaser that buys Southwest Florida houses for cash, it is important for buyers to take a few preliminary steps so as to get the best out of their cash deal for their property.
In today's world, property owners have many ways in which to sell their home and create quick cashflow solutions. What they don't realize is that while options are plentiful, there are some quick "hacks" that a property owner can complete in order to raise valuations - Some may require capital investment or "sweat equity" (meaning lots of time) however, if this is not a concern, homeowners can take advantage of some of the following tips to not only create a good first impression (you only get one!) but also, have a higher likelihood of attracting buyers who want to close the deal quickly, and have the financial means to do so.
First impressions go a long way. The interior of the property can be touched up to create a neutral and cohesive aesthetic presentation. Interiors that are painted professionally and use light hues to brighten up the space attract better valuation. The visual impression of spaciousness can be created with professional lighting and strategically placed mirrors to give the interiors a larger appearance.
In case the house requires repairs, it is a good practice to fix things up. This is not a waste of money, as smart buyers can point to any flaws in order to negotiate. A good practice is to use a home inspector before the property is put for sale. The inspector can offer a clean cheat after inspecting the house post repairs, making buyers confident about closing the deal.
A common mistake made by home owners is to make drastic alterations in order to make the property look good. This may cost a lot of money and may not be recoverable during the actual sale. Lighter updates such as paint and landscaping should be considered instead. For other modifications, the principle to use is what improvements are likely to lead to a better valuation.
Finally, it is a good practice to get the house valued by an estate broker, who can give an honest opinion. Marketing plans created by brokers also help, but one can start from stretch, learn from what experienced brokers do, and save money.
Alternatively, Owners who can't devote enough time or money to the selling process, still have some options. Using Cash For Houses solutions can save you the headaches of having to deal with contractors, spending additional money, or having to do the work yourself and running the risk of making a mistake in the process.
"We welcome home owners and offer them a fast sale, cash deal. We buy houses all over the Southwest Florida area, and we do all the work so you don't have to deal with any of this stuff. We can fix the property up, get rid of any issues including financial ones, and make sure you get your money within a few weeks; but most importantly, peace of mind that you are dealing with experienced professionals." says a spokesperson from Cash For Houses SWFL.
Cash For Houses SWFL buys houses all over Southwest Florida in any condition. The firm also offers to carry out all required modifications for owners who cannot invest their own time. While hiring Real Estate Agents means waiting for 3-9 months before even getting an offer (let alone hoping the buyer can close) Cash For Houses SWFL offers a no-commission, no-obligation, as-is deal to buy homes quickly and pay in all cash, without the delays associated with listing the property. The firm's team is available for site visit, after which it makes a fair, all-cash offer within 24 hours, and upon approval closes fast, sometimes inside seven days, with no finance-related delays.
Cash For Houses SWFL offers compassionate and ethical solutions to homeowners in our market that are in need of assistance; specializing in the following situations:
Are You In Foreclosure or Are About To Be?
Do You Own Unwanted Rental Property?
Do You Have Frustrating Tenants (Or Family Members) That You Can't Get Rid Of?
Do You Own A Vacant Property?
Did You Inherit An Unwanted Property?
Do You Need To Relocate Quickly And Need To Sell Your Current House Fast?
Do You Want To Avoid Paying Realtor Commissions?
Are You Going Through A Divorce?
Do You Have Little Or No Equity And Need To Sell?
Do You Own A "Fixer Upper" That You Don't Want To Fix Up Or Don't Have Time To Fix Up?
If you answered "yes" to one or more of these questions, we can help! We are specialists in solving real estate problems… especially ones that pose a financial burden on you, the homeowner. We can solve almost any financial problem that your property is causing.
For more information, please visit: http://www.cashforhousesswfl.com/
Share article on social media or email: