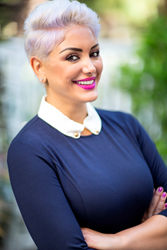 IRVINE, Calif. (PRWEB) July 10, 2018
Bahar Ansari, co-founder of Case.one (the leading next-generation case management solutions for the legal industry) was invited to speak at the Chief Litigation Officer Summit which took place June 24-26 in Dallas, TX.
During a packed master class, Bahar Ansari spoke about mastering happiness in legal work environments and shared the insights behind her company's revolutionary technology with more than 100 legal representatives of Fortune 500 companies at the Chief Litigation Officer Summit in Dallas, TX. The general counsels for AT&T, Bank of America, Capital One, eBay, NetApp, Western Union and more were present.
Ansari confessed a challenge many lawyers can relate to: "The better I got at my job," she recalled, "the faster I moved up in the firm, and the unhappier I felt." Thankfully, in the years since then, Ansari and her Case.one co-founder Alex Pelevin have figured out how to bring excitement and joy back into the practice of law. She explained how embracing automation and delegating tasks to robots can create happier workers, happier clients, and restore the essence of the legal industry.
Incredibly, a recent survey found that one in every four legal staff members say they spend two or more days a week on data entry — an incredible waste of time, talent, and resources. Thankfully, Case.one is here to change that — and make your firm more efficient and your employees more satisfied in the process.
"Utilizing technology, you can clone your lawyer self, your experiences, your litigation strategy, your best documents and lawsuit drafting practices, and with a few clicks, you can create an efficient, accurate, repeatable, profitable, and scalable process for generations to come," Ansari told the crowd.
In Ansari's words, your work life is much more fulfilling when you can "delegate all of these [repetitive] tasks to your very own, personally designed robots." The revolutionary Case.ne eco-system features advanced tools that help legal counsel take back control of all legal administrative matters without wasting valuable time in the process. Case.one's features include legal practice management software, a revolutionary legal chatbot, document management and assembly tools, AI-empowered knowledge, and file management software.
The Chief Litigation Officer Summit is the premium forum for bringing leading in-house counsel across the nation together with leading legal companies. Other presenters included Kerry LeMonte (Associate Counsel for Global Litigation at Western Union), Elena Lazarou (Head of Commercial Bank Litigation at Capital One), Robert Tronnes (Head of the Americas litigation group at eBay), Robert Bostrom (Senior VP and General Counsel of Abercrombie & Fitch), Brendan Dowd (Associate General counsel of Bank of America), Neal Berinhout (VP and associate general counsel at AT&T), and many more.
Share article on social media or email: