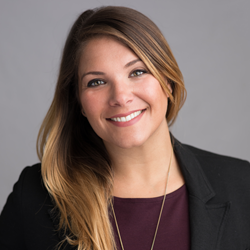 "Carrie is an ambitious businesswoman, and, with her industry knowledge and contacts, we are confident in Carrie's ability to build our legal division. Her go-getter attitude makes her a huge asset to this company and we are thrilled to have her taking on this new role within the company,"
BOSTON (PRWEB) October 01, 2018
Daley And Associates, LLC , a respected and award-winning executive search and contract staffing firm specializing in the placement of Accounting, Finance, Information Technology, Legal, Administrative and Life Sciences professionals, announced that Carrie Bresnick , an associate, will now be leading the Legal Search division at DAA.
"Carrie is a trained litigator and she has demonstrated her skills here on the sales floor as well. Carrie understands the legal industry and has been with Daley And Associates for a year now. Carrie is an ambitious businesswoman, and, with her industry knowledge and contacts, we are confident in Carrie's ability to build our legal division. Her go-getter attitude makes her a huge asset to this company and we are thrilled to have her taking on this new role within the company," said Mike Daley, President and CEO at Daley And Associates, LLC.
Carrie Bresnick said she is excited for the opportunity to use her extensive industry expertise to build the legal branch at Daley and Associates. "As a former secretary, paralegal, law student, hiring manager and practicing attorney, I am excited to share my knowledge of the legal industry to assist candidates and clients in navigating their hiring processes and job searches. The opportunity to build a team to focus solely on serving the industry I have been involved in for the last 15 years is really a dream come true," said Carrie.
About Carrie Bresnick: Prior to joining Daley and Associates, Carrie was a litigator focusing on malpractice and liability issues on behalf of both plaintiffs and defendants. When she stopped practicing law in 2015 to try her hand in recruiting, she realized very quickly that her industry experience was a huge factor in her immediate success consulting both hiring managers and candidates. Carrie's experience at all levels in the legal industry gives her a unique perspective that allows her to guide candidates and clients with thoughtful insight, helpful feedback and measurable results.
Carrie earned her Bachelor's degree in Psychology from UMASS Amherst and her JD from Suffolk University Law School where she was a member of the Battered Women's Advocacy Clinic as well as the Phi Alpha Delta Legal honors Fraternity. Carrie remains active in the Suffolk University Alumni circuit and provides job seeking advice and seminars for legal students and bar examinees. She is an excellent resource for those just beginning their legal careers as well as those more experienced practitioners who are eager to make career changes.
About Daley And Associates, LLC : Daley and Associates (DAA) is a boutique executive search and contract staffing firm that is specializing in placing Accounting, Finance, Administration, Information Technology, Legal and Life Sciences professionals into outstanding opportunities at all levels. The DAA team is comprised of executives, senior management, and expert team of recruiting professionals. They take pride in excellent client relationships, superior industry knowledge, and personable approach ensuring a great fit between the goals and needs of each client and candidate. DAA matches exceptional talent with employers to produce exceptional results.
Share article on social media or email: