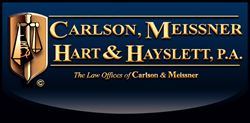 CLEARWATER, Fla. (PRWEB) October 25, 2017
The attorneys of Carlson, Meissner, Hart & Hayslett, P.A., celebrated achievements made by their team at the 2017 West Pasco Bar Association Installation Banquet.
Matt Kindel, a criminal defense attorney with the firm, was sworn in as President of the Association. Kindel is a native of Central Florida and currently resides in Land 'Lakes with his family. He works in the New Port Richey office and the Spring Hill Offices. His areas of concentration is criminal defense, including DUI, traffic violations, white collar crime, probation violations, and difficult cases such as entrapment and self-defense.
"I am so honored to serve the West Pasco Bar Association," said Kindel. "If you had told me when I was studying for my LSAT that I'd be the President of this organization, I never would have believed you."
The firm also wants to recognize J. Larry Hart, a partner with Carlson Meissner, who was presented with the 2017 West Pasco Bar Association Justice Award. The award was presented to Hart for his significant contributions to the justice system, and the education he has provided to police, prosecutors and public defenders. Hart previously served as President of the Association.
"Larry is one of the most brilliant legal minds I have ever met," said attorney Sarah Raaymakers, who accepted the award on Hart's behalf.
Carlson, Meissner, Hart & Hayslett has been faithfully serving Tampa Bay and central Florida for more than 46 years. The firm specializes in personal injury, criminal defense, workers' compensation, social security disability and immigration cases.
"I was always treated with respect by everyone in the firm," said a former client of her experience with the firm. "I was always made to feel important and that they were working hard on my behalf."
If you have been injured and are seeking legal representation, please call (877) 728-9653 or visit CarlsonMeissner.com.
Share article on social media or email: