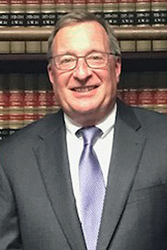 Houston, TX (PRWEB) October 05, 2017
Capstone is proud to announce that it has again bolstered its talent by bringing aboard David Osbourn, CPCU as Director of Business Development – Northeast. David is the 6th CPCU member of Team Capstone.
Mr. Osbourn brings to Capstone over 35 years of broad insurance industry experience, including property & casualty, reinsurance, and captives. His primary role is to help expand the Company's reach in the Northeastern / Mid-Atlantic regions of the United States and to educate mid-market business owners and advisors on the benefits of captive insurance planning.
"It is an honor to have David on the team," said Stewart Feldman, CEO & General Counsel at Capstone. "David's prior experience in property & casualty insurance and alternative risk planning aligns well with the expertise we value. David will be working out of our Pittsburgh, PA office, speaking to business owners, CFOs, and others about their risk coverage needs and about our outstanding track record in captive design, formation, and management. Over almost 20 years, Capstone has supported clients using a multi-disciplinary approach to captive insurance formation and management. It is the only way to ensure that the planning is done right and in compliance with the IRS and other regulatory bodies. We're looking forward to growing our presence in the Northeast / Mid-Atlantic areas with David at the forefront."
Earlier in his career, Mr. Osbourn demonstrated exceptional insurance expertise at AON Risk Services as Senior Broker and Account Executive. He also served as General Manager in Dublin, Ireland for Noble Insurance Companies, the captives owned by H.J. Heinz, where Mr. Osbourn also led budgeting, forecasting of insurance costs, loss expenses, and loss recoveries.
"As an integral part of the team, David will also be working with the tax and corporate attorneys of The Feldman Law Firm LLP, developing captive arrangements that make sense for clients," Mr. Feldman continued. "It is critical that all of the moving parts of captive planning are addressed, including tax and legal. As one cohesive team, Capstone and the Firm ensures that clients receive the benefits of captive insurance are fully realized."
At Capstone, Mr. Osbourn will be engaging businesses in a variety of industries on various captive insurance matters, helping them cover risks more cost-effectively and to promote better financial efficiency.
About Capstone
Capstone Associated Services, Ltd. (http://www.CapstoneAssociated.com) is the most integrated and largest outsourced provider of captive insurance services for the middle market. In association with The Feldman Law Firm LLP (http://www.FeldLaw.com), Capstone administers property & casualty insurance companies that provide alternative risk financing services throughout the U.S. Now in its 19th year, Capstone provides turnkey services usually under a joint engagement with its affiliated law firm to manufacturers, distributors, and professional organizations.
Capstone's own staff of insurance professionals includes Chartered Property & Casualty Underwriters, Associates in Risk Management, accountants and administrators, in addition to the affiliated The Feldman Law Firm LLP's tax, corporate, financing and regulatory lawyers, and outside CPAs, risk managers, property & casualty professionals, and actuaries. On staff at Capstone are six CPCUs with more than 130 years of experience. Together, this team offers middle market companies the most comprehensive risk planning solution available. Today, captives are the premier risk management and risk-financing tool for qualified middle market companies.
To learn more about how alternative risk planning and captive insurance can protect your business from uninsured risks, please visit us at http://www.CapstoneAssociated.com or contact us at 800.500.3190.
NOTICE: To the extent this communication contains any statement of tax advice, such statement is not intended or written to be used, and cannot be used, by any person for the purpose of, or as the basis for, avoiding tax penalties that may be imposed by the Internal Revenue Service. Unless expressly stated otherwise in writing, this communication is not intended to be used, and cannot be used, for the purpose of promoting, marketing, or recommending to another party any matter addressed in this communication.
Share article on social media or email: