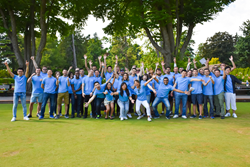 "What attracts people to work here most is the ability to make a real impact in today's world and the future." - Zac Cohen, General Manager of Trulioo.
VANCOUVER, B.C. (PRWEB) November 28, 2017
Trulioo, a global identity verification provider based in Vancouver, is on the lookout for talented and skillful candidates to join its diverse and devoted team.
Trulioo helps fintech startups and traditional banks meet their compliance requirements and this year alone has doubled the size of its team. Now, the company plans to add 50 new positions within the next six months to help satisfy increasing demand for its global fraud prevention and compliance solution.
Within Canada, the fintech sector is experiencing exponential growth. According to a recent PwC report, Canadian fintech startups secured 27 venture capital deals in the third quarter of 2017, totaling US$200 million. This, coupled with an overall upsurge in the adoption of fintech, has resulted in the creation of many job opportunities. In British Columbia alone, it is expected there will be more than 40,000 new tech jobs created over the next five years.
A leading RegTech company, Trulioo is looking for a diverse array of talented individuals and is hiring across all departments – from customer success to marketing and sales to technology.
"We offer endless opportunities for creativity and growth and believe in hiring candidates with great potential and the right attitude," said Zac Cohen, General Manager of Trulioo. "What attracts people to work here most is the ability to make a real impact in today's world and the future."
Trulioo is recognized by KPMG, PwC and Deloitte as a leading fintech and RegTech startup. Powering the top payments, eCommerce sites, banks and financial services providers in the world, Trulioo has been awarded countless prestigious global accolades. This year, the company was recognized as a 2017 CNBC Disruptor 50 Company, won Best ID Verification Solution at the CNP Awards, and ranked #1 for Top Identity Verification Provider in the 2017 RegTech Supplier Report – two years running.
"Trulioo offers talented people an opportunity to become part of something extraordinary," said Cohen. "Building innovative tech and trust in the financial landscape is key to enabling financial inclusion, developing best privacy practices and mitigating the risks associated with online activities."
Great things are happening at a rapid pace. In October, Trulioo launched its much-anticipated Global Business Verification product, which allows customers to instantly verify business entities from around the world in real-time. With the new product launch, and the continued success of its award-winning Global Online Identity Verification platform, GlobalGateway, Trulioo has entered rapid-growth mode and needs to scale its team to meet demand.
"If you want to work for a company that values collaboration, open communication and trust, we encourage you to apply for one of our many open positions," continued Cohen.
About Trulioo
Trulioo is a global identity verification company that provides secure access to traditional and alternative data sources worldwide to instantly verify consumers and businesses online. Trulioo's bank-grade online verification platform, GlobalGateway, helps organizations comply with Anti-Money Laundering (AML) and Customer Due Diligence (CDD) requirements by automating Know Your Customer (KYC) and Know Your Business (KYB) workflows. Trulioo's solution leverages Optical Character Recognition, Natural Language Processing, and Artificial Intelligence technology to provide a reliable and trustworthy way for clients to evaluate new and existing customers and business entities in real-time. Trulioo supports over 500 global clients to instantly verify 4.5 billion customers in over 60 countries and 250 million business entities in over 80 countries - all through a single API integration. Named as a 2017 CNBC Disruptor 50 Company, Trulioo's mission is to solve global problems associated with verifying identities by powering fraud prevention and compliance systems for customers worldwide in an effort to increase trust and safety online. For more information visit http://www.trulioo.com.
Share article on social media or email: