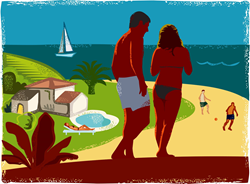 Affidavits establish death of a timeshare owner. Deeds transfer ownership.
HUNTINGTON BEACH, Calif. (PRWEB) November 29, 2018
This Tip Sheet by Deed and Record looks at how to change ownership of a timeshare located in California. The procedure to use depends if an owner has died. If all owners are living a deed is used. If an owner has died an affidavit is required. Deeds and affidavits are two distinct documents.
If an owner of a California timeshare is deceased, how the deceased took title determines which affidavit to use. Review of the last transfer deed is required. If there is a surviving co-owner and the words, "joint tenants, "community property with right of survivorship," or ownership is by a trust, then the surviving co-owner is the owner.
If the survivor wants to add a new owner, sell or gift the timeshare, he or she must put on the public record notice of death of the deceased owner. This is done with an affidavit of death. Specific affidavits are; "affidavit death of joint tenant," "affidavit death of spouse" or "affidavit death of trustee." A death certificate is attached to the affidavit. The affidavit and death certificate are filed with the recorder in the county where the timeshare is located.
If the surviving owner makes no change of ownership and subsequently dies or if all owners of the timeshare are deceased, change in ownership is made by an "Affidavit re Real Property of Small Value." This affidavit is a simplified, probate procedure that allows transfer of real property in California without a court hearing.
"Affidavit re Real Property of Small Value" is available only for real property less than $50,000. The value is determined as of date of death and is the appraised market value. The market value of any given timeshare in California is much less than $50,000 so the "Affidavit re Real Property of Small Value" procedure is always an option for timeshares in California.
Ownership change by a living timeshare owner is by deed. A deed is signed by the owner to transfer ownership to someone else. Deeds to change ownership are used for transfers between spouses due to marriage or divorce, sale of a timeshare, to change ownership to a trust or gift a timeshare. Gifts of timeshares can be either full or partial gifts. Partial gifts are when a new owner is added as a joint owner.
The verbiage to change ownership is either "grant" or "quit claim." A grant deed conveys warranty of valid title and full disclosure of all debts and liens secured by the timeshare. A quit claim deed makes no promises or disclosures and is the equivalent of an "as is" transfer. Most often the verbiage of grant or quit claim do not matter because the parties know each other or the value of the timeshare is nominal and the protections of title insurance, escrow and grant deed are not necessary.
Change in ownership of a timeshare locate in California is either by deed or affidavits. Affidavits are needed when a timeshare owner has died. Deeds are used to change ownership between the living. Affidavits and deeds are filed with the Recorder's office in the county where the timeshare is located.
This press release is provided by Mark W. Bidwell, an attorney licensed by California. Office is at 4952 Warner Avenue, Suite 235, Huntington Beach, CA 92649. Phone is 714-846-2888. Email is Mark(at)DeedandRecord.com.
Share article on social media or email: