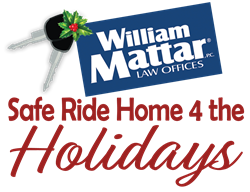 "We want everyone to enjoy celebrations this holiday season but planning ahead so you don't drink and drive is a must. This program helps get people and their cars home safely." -William Mattar, Esq.
BUFFALO, N.Y. (PRWEB) December 11, 2018
When it comes to helping the community Buffalo car accident attorney William Mattar is all about auto safety. The William Mattar Safe Ride Home 4 the Holidays program is offering registrants a membership to Designated Drivers of Buffalo (the service that gets both driver and vehicle home), and either a free ride or a ride discount just for signing up! As a corporate sponsor of Designated Drivers of Buffalo, William Mattar law offices knows how important it is to never drink and drive. Anyone out celebrating the holidays or a special event should never get behind the wheel after drinking. This program helps provide a way to get a person and their vehicle home, and all they have to do is register at williammattar.com.
Registrants are automatically set to receive a membership to Designated Drivers of Buffalo and either a free ride or a discounted ride. (Estimated value of membership plus free ride is $200; with ride discount $124.) Find all the details at williammattar.com and register today! (*Program ends on 12/31/18 or when $80,000 worth of offers are claimed, whichever comes first). Redeem the free ride or ride discount at any time during the holiday season or for an upcoming special occasion as prizes expire on 11/1/19. This is a unique opportunity to have a safe way home for both driver and vehicle.
Continuing with the auto safety theme, William Mattar also offers a high school presentation called 'Drive Distracted, Lives Impacted' which brings a trial attorney perspective to distracted driving and the aftermath that may be faced. Any high schools who would like this free presentation brought to their students should contact megan@williammattar.com for more details.
About William Mattar, PC
Community and safety campaigns are very important to William Mattar law offices, as they have created several annual programs such as Pencils 4 Schools, Buckle Your Belt, Drive Distracted Lives Impacted, and a number of other well received campaigns. Buffalo auto injury attorney William Mattar has helped thousands across New York State. Their goal is to obtain the best possible results for their clients in the least amount of time. They are always there when you need them, including weeknights, weekends and holidays, 24/7. Hurt In A Car Call William Mattar. 444-4444.
Share article on social media or email: