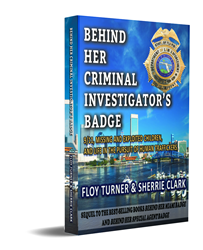 JACKSONVILLE, Fla. and VERO BEACH, Fla. (PRWEB) October 30, 2018
Special Agent Floy Turner returns to fight her final crime-fighting battles, using her wits, experience, and badge to investigate deep into domestic crimes and the international crime of terrorism.
The action continues to intensify since Floy's last adventures in the prequels BEHIND HER SPECIAL AGENT BADGE and BEHIND HER MIAMI BADGE. As the first page brings us back to the historical day of 9/11, Floy finds herself in a precarious situation when she and her team face the potential threats of entering and searching the apartments of the 9/11 terrorists mere hours after the attacks.
From escorting a renown serial killer to her execution to interrupting the insidious ploys of kidnappers, cybercrime predators, and human traffickers to revealing a "monster" mom, Floy uses her seasoned investigator's skills to ensure justice is served.
BEHIND HER CRIMINAL INVESTIGATOR'S BADGE (published by Storehouse Media Group) puts you in the thick of the ups and downs of law enforcement one last time as you join Floy in investigating more complex, high-profile cases, all from behind the badge.
ABOUT THE AUTHORS:
FLOY TURNER began her twenty-five-year law enforcement career in Miami as a Florida Highway Patrol Trooper and ended it as a Florida Department of Law Enforcement Special Agent. She's conducted high-profile criminal investigations and was assigned to joint task forces at the international, federal, state, and local law enforcement levels.
SHERRIE CLARK is a former NYPD police officer, author, and ghostwriter, author coach, and book editor of best-selling and award-winning books. As CEO of Storehouse Media Group and cofounder of Book Concept 2 Best Seller, she uses her expertise to help busy professionals and aspiring authors write their books to increase their credibility and authority.
Both authors can be reached for media and podcast interviews and speaking engagements at https://www.StorehouseMediaGroup.com.
Share article on social media or email: