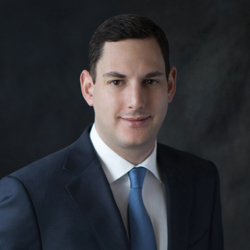 "At Ball Janik LLP, client communication is at the heart of our practice. We are here to listen to your concerns, answer your questions, and help you successfully navigate the road to recovery."
ORLANDO, Fla. (PRWEB) August 15, 2018
Brett Roth has joined Ball Janik LLP's Orlando office as an associate attorney in the Construction Defect and Insurance Recovery practice groups. Mr. Roth's practice is focused on prosecuting construction-defect claims and insurance recovery matters for property owners and policyholders. Prior to joining Ball Janik, Mr. Roth represented insurance companies, as well as contractors and subcontractors, in construction defect claims, first-party property damage claims, and insurance-coverage disputes throughout Florida. Mr. Roth also has extensive experience in defending personal injury, wrongful death, and bad-faith litigation.
Coming from a family that is heavily involved in construction and development throughout Florida, Mr. Roth has a unique insight to the construction industry. Together with his prior experience in defending construction defect and insurance coverage disputes, Mr. Roth's background affords him the ability and competitive advantage to maximize returns for our clients.
About Ball Janik LLP
Ball Janik LLP is a full-service law firm with offices in Orlando, Florida and Portland, Oregon. For over thirty years, Ball Janik LLP has provided outstanding legal services in the areas of construction defect, insurance recovery for policyholders, bankruptcy and creditor rights, commercial litigation, construction and design, construction litigation, employment, real estate and land use, and securities litigation.
Ball Janik LLP represents a variety of clients ranging from large and small businesses; state, municipal and local governments; associations; schools and universities; and individuals. Ball Janik LLP provides clients an aggressive, skilled, team approach to solve problems and achieve results. Ball Janik LLP has been recognized by Chambers USA, U.S. News & World Report and Best Lawyers®, The Best Lawyers in America©, and Corporate International. Ball Janik LLP's success and integrity have repeatedly made it one of "Oregon's Most Admired Professional Firms," according to the Portland Business Journal's survey results of CEOs throughout the region.
Share article on social media or email: