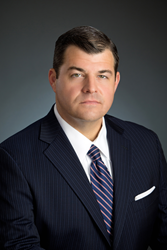 DENVER (PRWEB) May 31, 2018
Experienced energy attorney Brent D. Chicken has joined Steptoe & Johnson PLLC. His practice will focus on energy litigation, administrative law and transactions from the firm's Denver office. He joins a team of more than 100 energy attorneys assisting clients in some of the largest shale plays across the country.
"With the addition of Brent, our energy team's growth continues so we can meet our clients' needs," said Steptoe & Johnson CEO Susan S. Brewer. "Brent will help strengthen our team serving the energy industry in the Denver area and in the Western U.S."
In his five states of licensure – Colorado, Wyoming, Montana, North Dakota and Utah – Mr. Chicken has extensive experience in commercial litigation; federal, tribal, state and local regulatory law; energy transactions; and mineral title/due diligence matters. In the courtroom, and via mediation and arbitration, he represents clients in contract, royalty payment, title and other operational disputes. Mr. Chicken also guides clients through the maze of ever-changing regulatory matters associated with energy development projects, ranging from simple well spacing and flaring applications, to complex, multi-party protested matters and proceedings before federal, state and local administrative agencies. Mr. Chicken has also assisted clients in every phase of multi-million dollar transactions in several states, involving not only the traditional document preparation and due diligence aspects of such deals, but also oft-associated matters such as joint operating, farmout, farm-in, and carry agreements, and other related contracts. Finally, Mr. Chicken has also authored hundreds of drilling, mineral and division order title opinions, including specialty opinions involving natural gas storage units and solution mining.
Mr. Chicken earned his law degree from the University of Denver College of Law and his bachelor's degree from Florida State University. He is a Special Institutes Committee and faculty member for the Rocky Mountain Mineral Law Foundation, and a frequent contributor and presenter for the Denver Association of Petroleum Landmen, the National Association of Lease Title Analysts, the Colorado Bar Association-Environment and Natural Resources Section, and the National Association of Division Order Analysts.
About Steptoe & Johnson
Steptoe & Johnson PLLC is a law firm nationally recognized for its strengths in energy law with more than a century of know-how in the areas of business, employment, and litigation. Steptoe & Johnson has more than 300 attorneys practicing in 13 offices in Colorado, Kentucky, Ohio, Pennsylvania, Texas, and West Virginia. Visit http://www.steptoe-johnson.com and connect with us on Twitter and LinkedIn.
For more information, contact Betsy Spellman, Chief Marketing Officer, at (304) 933-8000 or by email: press(at)steptoe-johnson(dot)com.
Share article on social media or email: