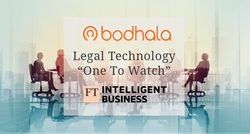 Being FT's "One To Watch" is a recognition of our hard work developing an innovative platform that provides a comprehensive understanding of companies' legal spend, enabling them to justify their costs with objective data.
NEW YORK (PRWEB) November 19, 2018
Bodhala, the leading technology platform that helps corporate legal departments analyze and optimize their spend, has been recognized as a Financial Times 'One to Watch' in Legal Technology for 2019. This was presented by the Financial Times and RSG Consulting at the 2018 FT/RSG Intelligent Business Forum. It honors Bodhala's recent achievements and future opportunity in revolutionizing how companies manage legal budgets, select outside counsel, and gain insights into legal spend using AI and machine learning. The award also recognizes the increasing number of companies who see Bodhala as the center of their entire legal technology stack.
Bodhala's mission is to be used by all legal departments in the world as their central command platform for legal spend. Its technology platform analyzes over $12 billion in invoices covering over 30 million billed line-items across 5,000 law firms. These analytics provide companies with a comprehensive understanding of market targets on rates, staffing, and billing precision for the client's matters, so clients are not just price-takers of firm decisions. Bodhala empowers its clients with the tools and insights necessary to take the ambiguity out of their legal spend decisions.
Bodhala's co-CEO, Raj Goyle, attended the event and remarked: "It is a great honor for the entire Bodhala team. Being FT's "One To Watch" is a recognition of our hard work developing an innovative platform that provides a comprehensive understanding of companies' legal spend, enabling them to justify their costs with objective data. With legal departments being asked to do more with less, Bodhala takes the ambiguity out of legal spend and empowers business leaders to make strategic decisions and justify those decisions with confidence."
The Bodhala platform marries innovation and legal expertise, saving millions of dollars on outside spend while preserving and improving essential law firm relationships. The platform analyzes companies' legal spend data using advanced algorithms to identify efficiency opportunities and provide powerful insights. These insights are surfaced at speeds far exceeding current manual efforts, enabling businesses to more efficiently manage their legal spend.
This recognition comes on the heels of rapid growth and successful company performance for Bodhala. After a seed round drawn from alumni of Microsoft, Facebook, Google, and Amazon, the company is on track to grow over 3X this year and again next year. Working with industry-leading companies across the Fortune 500, the platform has saved clients billions of dollars in three short years.
Bodhala is among good company for Legal Technologies One To Watch including IBM Watson Legal, LawGeex, DataNovo and Nivaura. Organized by the Financial Times, the event was hosted at DocuSign headquarters in San Francisco on Wednesday, November 14, 2018. Speakers included senior representatives from AB InBev, Nestle, PayPal, Shell, VMware, GlaxoSmithKline, as well as Kira, Exigent, Apttus, KPMG and iManage.
About Financial Times
The Financial Times is one of the world's leading business news organizations, recognized internationally for its authority, integrity, and accuracy. In 2016 the FT passed a significant milestone in its digital transformation as digital and services revenues overtook print revenues for the first time. The FT has a combined paid print and digital circulation of more than 910,000 and makes 60% of revenues from its journalism. For more information visit FT.com
About RSG Consulting
RSG Consulting is a research and strategy consultancy, founded in 2001. It specializes in working for professional service firms, with a special focus on ranking and assessing lawyers that dates back to the early 90s. RSG carries out commissioned and independent research on topics that include innovation, the development and future of the profession and emerging legal markets. It helps law firms and legal departments differentiate themselves, through innovation, brand or strategy projects. For more information visit rsgconsulting.com
About Bodhala
Bodhala provides legal teams with a better way to optimize their spend on outside counsel using big data analytics delivered through its proprietary AI-backed platform. Bodhala's mission is to empower the legal industry with the tools necessary to take ambiguity out of legal spend decisions. Created for lawyers, by lawyers with advanced data science expertise, Bodhala is customizable, informative and intuitive, providing actionable insights in a timely manner. For more information visit: Bodhala.com.
Share article on social media or email: