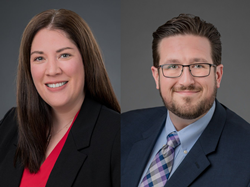 PALO ALTO, Calif. (PRWEB) December 17, 2019
BlackStone Discovery, the premier legal technology and consulting provider, is happy to announce the expansion and enhancement of their rapidly growing, cutting-edge managed review offering. These moves are an integral part of BlackStone's aggressive growth and global expansion in 2019 and continue a legacy of promoting dynamic talent best equipped to provide innovative solutions for complex litigation matters and high-profile forensic investigations.
Catherine Pray Elevated to Director of Managed Review
An 8-year veteran of document review as both an attorney and a manager, Pray's excellence and expertise has lead to tremendous growth for the BlackStone managed review team in just under two years with the company. A well-known presence in the Salt Lake City legal community, Pray's talent and reputation has garnered the type of loyalty that has helped oversee exponential growth in review hours and revenue, solidifying BlackStone's status as an industry leader in document review. As Director, Pray will oversee BlackStone's growing national review business, working to normalize the BlackStone review experience across multiple offices, ensuring their clients will have a level of excellence that they can count on in each and every engagement.
Stephen Tryon Named Review Analytics and AI Lead
Tryon joined BlackStone Discovery in 2018 as a key member of the managed review division, leading teams of experienced contract attorneys with a focus on applying Artificial Intelligence products to document review. As a review attorney, Tryon provided key clients with an advanced analytical approach to train and maximize the performance of their software in the review and categorization of complex contracts. As BlackStone's Review Analytics and AI Lead, Tryon will not only optimize the existing TAR and predictive coding offerings, but he is already developing more advanced workflows to better leverage AI to create more defensible and affordable solutions for his clients.
About BlackStone Discovery
BlackStone Discovery is the premier legal technology and consulting provider, working with leading Fortune 500 companies and AM Law 100 firms. Since 2003, BlackStone Discovery has customized solutions for the most complex eDiscovery needs and high profile Forensic Investigations leveraging industry-leading technology and employing proprietary applications with a team of highly trained professionals. BlackStone Discovery is devoted to delivering the most cost-effective and defensible solutions available. Blackstone's service offerings span the entire EDRM including Forensic Imaging & Internal Investigations, Relativity Hosting Solutions, Attorney Document Review, Early Data Analysis (EDA), Technology Assisted Review, Enterprise Discovery Protocols (EDP), and Case Management Consultation.
Share article on social media or email: