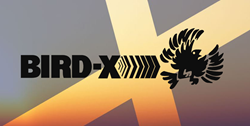 Chicago, IL (PRWEB) October 02, 2017
Bird-X will attend the National Pest Management Association's (NPMA) PestWorld 2017 in Maryland, and looks forward to spreading their mission of offering humane and eco-friendly bird control solutions.
Josh Pierce, Bird-X Sales Manager, says that Bird-X is looking forward to attending. Looking back on past PestWorld events, Pierce commented on how the NPMA has been influential in helping Bird-X make itself a household name in the pest control industry.
"PestWorld is very unique," Pierce said. "It's a great venue for showcasing new technologies in the pest control market. Laser bird control has become increasingly successful, especially in tandem with other products. We want to educate pest control operators on best practices."
Bird-X will be highlighting their best-selling electronic bird control products, specifically indoor and outdoor lasers. Additionally, the groundbreaking Avishock™ bird track, which has become an industry standard, will be displayed at the show by Pierce and other members of Bird-X's knowledgeable sales team. Avishock™ works by gently shocking birds upon contact, alerting them to fly away.
Bird-X will be an official exhibitor at PestWorld 2017 in Baltimore, MD, on October 24th – 27th, Booth #938. For more information about Bird-X's attendance at the show or on their new bird control products, please call the Bird-X customer service line at (800) 662-5021 or email solutions(at)bird-x.com.
Share article on social media or email: