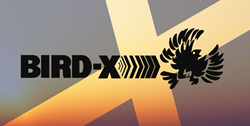 (PRWEB) November 17, 2017
Bird-X Account Managers return from the 2017 PestWorld in Baltimore, and it was a huge success. Bird-X was able to build on its growing interest from international pest control operators and resellers, proving that PestWorld is indeed a unique tradeshow experience, connecting manufacturers and industry professionals from around the world.
Laser bird control technology was a largely discussed topic this year, and Bird-X brings two new laser devices to the market, the Indoor Laser and Outdoor Laser. Both can be used day or night, with daytime laser use becoming increasingly more common. Laser technology is a great complimentary tool to be used alongside other bird control methods, including exclusionary measures and electronics.
"We are extremely pleased with the new relationships we fostered this year at PestWorld, and how our existing partnerships were strengthened by our attendance. We are very proud to be carving a new path in the pest control industry," says Josh Pierce, Sales Manager of Bird-X, Inc.
Bird-X, Inc. has spent over 50 years protecting public areas from over 60 bird-spread transmissible diseases. The leading international brand of humane bird control solutions, this Chicago-based company manufactures a complete line of unique bird control products, protecting the health of humans, wildlife, and the environment by deterring birds from unwanted areas without harming them.
For information on any of Bird-X's humane pest control products, please call customer service at (800) 662-5021.
Share article on social media or email: