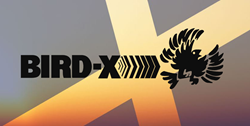 (PRWEB) October 05, 2017
Bird-X, Inc., the industry leader in safe and humane Bird and Pest Control, is in the midst of trade show season. With True Value's Hardware Exhibition concluding last week, and Do It Best's Fall Market trade show coming up next weekend, Bird-X's established and knowledgeable account managers bring new and innovative products to the forefront of the minds of major decision makers and buyers. Do It Best attendees can visit Bird-X at booth #4651, from October 14th-16th at the Indiana Convention Center in Indianapolis.
Products that have solved pest bird and animal problems in the industrial world for over 50 years have been repackaged for sale in the retail market. The best pest management practices are now available directly to consumers to eliminate outdoor and indoor problems and infestations from pest birds, deer, rabbits, and scores of other pests that cost home owners millions of dollars in structural and landscaping damage annually.
Trade shows allow entire industries the opportunity to introduce and discuss new and existing products. In the Bird and Pest Control industry, up to date awareness is key in preventing the spread of diseases, reducing cleanup costs at commercial and residential properties, and being as humane as possible to safely deter animals instead of using harmful chemicals.
Bird-X, Inc. has spent over 50 years protecting public areas from over 60 bird-spread transmissible diseases. The leading international brand of humane bird control solutions, this Chicago-based company manufactures a complete line of unique bird control products, protecting the health of humans, wildlife, and the environment by deterring birds from unwanted areas without harming them.
For information on any of Bird-X's humane pest control products, please call customer service at (800) 662-5021.
Share article on social media or email: