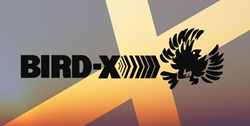 Chicago, IL (PRWEB) September 21, 2017
Bird-X released a new blog post today, discussing the recent success of bird wire application on a multi-million dollar home and pool in the Hamptons. Carried out by Seagull Control Systems, this was one of the most complicated jobs they've seen.
"Seagulls were roosting on the roof peaks, the chimney and a turret. Even walking down the hip ridges, a phenomenon I'd not seen before," states Barry Fast, the owner of SCS.
Bird deterrent wire is a stainless steel wire cable that prevents pest birds from landing on building ledges & other long surfaces that tend to attract birds. Stainless steel posts are threaded with stainless steel wires at different heights, creating an uneven landing surface and making it difficult (if not impossible) for birds to perch on the treated surface. This forces the pests away from the treated areas to find somewhere else to roost.
Learn more about Bird-X Bird Deterrent Wire here.
Bird-X, Inc. has spent over 50 years protecting public areas from over 60 bird-spread transmissible diseases. The leading international brand of humane bird control solutions, this Chicago-based company manufactures a complete line of unique bird control products, protecting the health of humans, wildlife, and the environment by deterring birds from unwanted areas without harming them.
For information on any of Bird-X's humane pest control products, please call customer service at (800) 662-5021 or visit online at http://www.bird-x.com
Share article on social media or email: