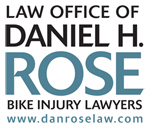 SAN FRANCISCO (PRWEB) October 31, 2018
The Law Office of Daniel H. Rose will once again be the Presenting Sponsor of Bike East Bay's Biketopia, their winter member party and fundraiser, taking place at the Ed Roberts Campus at 3075 Adeline Street in Berkeley, right next to the Ashby BART Station, on November 8, 2018 from 6:30-10:00 pm. Bike East Bay, formerly known as the East Bay Bicycle Coalition, is the San Francisco East Bay's primary bicycling advocacy organization.
Usually packed with hundreds of enthusiastic, fun-loving, and sometimes hiply outfitted bicyclists, it is an evening of delicious food, music, great company, lively conversation, and an impressive selection of items at their silent auction. The auction allows the public to bid on items such as Warriors Tickets, a trip to Cuba, Burning Man tickets, bicycles and bicycle apparel.
Bike East Bay promotes healthy, sustainable communities by making bicycling safe, fun and accessible. Through advocacy, education, and community engagement, Bike East Bay tirelessly works to support the development of a vast and seamless network of bicycle facilities, cultivates bicycle and people friendly street design, increases funding for bicycle projects and improvement, educates the public through partnerships with law enforcement, schools, employers, riding clubs, and others, and increases awareness and appreciation of bicycling.
The Law Office of Daniel H. Rose is a personal injury law firm which has for decades provided representation of victims of bicycle and pedestrian accidents in the San Francisco Bay Area. The firm routinely donates substantial resources to the bicycling and walking community.
LAW OFFICE OF DANIEL H. ROSE
One Sansome Street, Suite 3500
San Francisco, California 94104
Tel: (415) 946-8900 Fax: (415) 221-0892
Share article on social media or email: