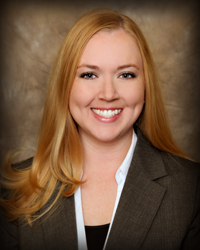 The firm has grown so much since I began working here and I am truly grateful for the opportunity.
SOUTHLAKE, Texas (PRWEB) December 12, 2019
To accommodate their expanding clientele, Beal Law Firm has added locations and attorneys across Texas. Jessica Temple, an employee of the practice for almost nine years, has been announced as the new managing attorney at the firm. Temple started with Beal Law Firm as an assistant and then became an associate attorney after graduating from Texas A&M University School of Law.
"I'm honored and excited to be working as a managing attorney for the Beal Law Firm. The firm has grown so much since I began working here and I am truly grateful for the opportunity," Temple said. The decision to add a managing attorney to work in conjunction with Constance Mims, the firm's senior managing attorney and member, came following the recent addition of the Frisco location, three new attorneys, and three new assistants in just over three months.
Beal Law Firm has represented clients with family law needs all over Texas since the early 90's. Focused on divorce, child custody, child support, modification, enforcement, and grandparent rights, the practice has extended hours of operation, locations, and modes of consultation to foster their growth. There are currently five Beal Law Firm practices, located in San Antonio, Southlake, Dallas (Park Cities), Frisco, and downtown Fort Worth.
Temple grew up around Fort Worth and loves everything Texas, especially the summers, the Tex-Mex, the Dallas Cowboys, and the Texas Rangers. She is no stranger to the level of dedication and hard work it takes to be the managing attorney over a law firm with five locations; Temple worked full-time at Beal Law Firm as a legal assistant while completing law school.
Temple's mentality is that "family law is more than who gets what and who gets the kids." "We strive to protect our client's short-term and long-term interests," she said of the firm.
About Beal Law Firm:
Beal Law Firm exclusively handles cases relating to divorce, custody, child support, adoption, modification and other matters of family law all over the state of Texas. Senior attorneys of the firm, Eric Beal and Constance Mims, are Martindale-Hubbell AV Preeminent rated, are Board Certified in Family Law by the Texas Board of Legal Specialization and are members of the College of the State Bar of Texas.
http://www.dfwdivorce.com
Facebook: @BealLawFirm
Southlake (817) 261-4333
Fort Worth (817) 945-3384
Frisco (940) 252-0282
San Antonio (210) 946-3303
Dallas (214) 414-0418
Share article on social media or email: