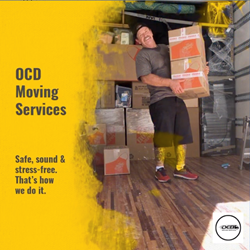 San Francisco, CA (PRWEB) December 13, 2019
Bay Area moving company, OCD Moving Services, helps hundreds of Bay Area residents move homes every year. While the Bay Area movers company has seen and heard their clients remark on the benefits of hiring a professional moving service, not many take advantage of hiring professional packers, a service that OCD Moving Services also provides. To help those planning future moves, OCD Moving Services is sharing a few reasons why hiring a professional packing service may be a good idea for your next move.
"At OCD Moving Services, we offer every service individuals or companies may need to execute their moves successfully," says Daniel England, Owner of OCD Moving Services. "We, of course, execute hundreds of moves every year, but one service we don't see our customers taking enough advantage of is our professional packing service. We offer this service in addition to our moving services, and we find it to be one of our most helpful add-on services. So, we decided to put together a few reasons why it's helpful to have someone do the packing for you."
Top Reasons To Hire Professional Packers
One of the many reasons to hire professional packers is they are professionally trained. The professional packers at OCD Moving Services have the skills and experience necessary to ensure your move goes smoothly and successfully. Also, professional packers know how to handle moving large items, pack under a short timeline, and also make your move as smooth as possible.
Professional packers also have the right materials needed for your move. No matter how much or how little you have to move, moving requires specialized equipment. Professional movers typically already have all of the tools necessary to help you execute a safe and efficient move.
Additionally, because they do this for a living, professional packers know how to help you make your move faster. Moving can be a long process when you do it on your own. However, when you enlist the help of professional packers, they have the training, tools, and knowledge necessary to streamline your move. When you work with professional packers, they can often cut down your move time by hours, days, or even weeks. When there's less time you have to spend packing, you can spend that time getting to know your new neighborhood and adjusting your family and pets to your new home.
Hiring professional packers can also save you money in the long run. Some people think they will save money by doing the packing on their own. However, when you hire professional packers, your move will not only go faster, but you'll have to make fewer trips to your new home. Hiring professional packers from a Bay Area movers company also means you'll have less moving supplies to purchase.
Hiring a professional packing service from a Bay Area movers company will ensure that your move is executed efficiently and successfully. OCD Moving Services can provide professional packing services for your next move. OCD Moving Services is currently offering free quotes to new customers. For more information, visit http://www.ocdmovingservices.net or call 510-375-3844.
About OCD Moving Services
OCD Moving Services understands that their clients look for professional packing services when planning a home move in the Bay Area. OCD Moving Services also knows how problematic packing and unpacking can be. It can take up a significant portion of one's time while planning a move. OCD Moving Services prides itself on being expert packers and movers. They have what it takes to get the job done. For more information and to get a free quote, visit http://www.ocdmovingservices.net or call 510-375-3844.
OCD Moving Services provides professional moving services in the following areas:
San Leandro, CA
San Ramon, CA
Dublin, CA
Pleasant Hill, CA
Orinda, CA
Lafayette, LA
Moraga, CA
Alamo, CA
Clayton, CA
Concord, CA
Martinez, CA
El Cerrito, CA
Kensington, CA
Albany, CA
Emeryville, CA
Piedmont, CA
Sausalito, CA
Mill Valley, CA
El Campo, CA
Tiburon, CA
Corte Madera, CA
Paradise Cay, CA
Larkspur, CA
San Rafael, CA
San Anselmo, CA
Novato, CA
Vallejo, CA
Pinole, CA
Benicia, CA
American Canyon, CA
Napa, CA
Napa Valley, CA
Brentwood, CA
Blackhawk, CA
Livermore, CA
Share article on social media or email: