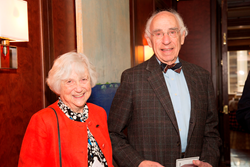 Miriam's generosity and heart for serving others is truly inspiring.
BALTIMORE (PRWEB) October 29, 2017
The Hearing and Speech Agency (HASA) of Baltimore is proud to congratulate Board Member Miriam Zadek on receiving the Governor's Service Lifetime Achievement Award, in recognition of her 40+ years of service to individuals and families across Maryland facing communications challenges.
The Lifetime Achievement Award is presented by the Governor's Office on Service and Volunteerism to an individual who has demonstrated an outstanding commitment to serving the people of Maryland and meeting a pressing need in the community.
Over the last 40 years, Zadek has worked to close the gap in education and support services for families coping with communications challenges. She first joined HASA as a social worker in 1975 and developed the care model for families impacted by hearing and speech disorders. She later founded the organization's Centralized Interpreter Referral Service interpreting department, the first American Sign Language interpreting agency in Baltimore.
Since retiring in 1994, Zadek has continued to give her time and resources to HASA's mission. She has served on the HASA Board of Directors for over 20 years, devoting herself to education and fundraising efforts. She founded the Zadek Family Education Program, which provides opportunities for families and professionals to learn together in an interactive, inclusive environment. She also secured the funds for the Frances Scholarship Endowment Fund, allowing children to benefit from critical early intervention and educational services in Gateway School.
"Miriam's generosity and heart for serving others is truly inspiring," says Erin Stauder, executive director of HASA. "She has worked tirelessly to raise awareness, develop resources and expand support services for individuals and families facing communications challenges of all kinds. This honor is much deserved."
Zadek was honored for her years of service to the Baltimore community on Thursday, November 2, at the 34th Annual Maryland Governor's Service Awards.
To learn more about how you can help raise awareness and support greater access to communication for all individuals, please visit http://www.hasa.org.
Share article on social media or email: