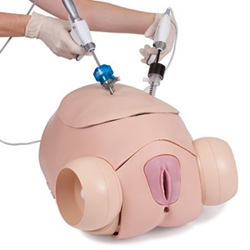 "We saw that there was significant variation in the feedback residents were receiving in the operating room compared to the simulation setting. With blinded evaluations of trainees using the Limbs & Things model, we were able to standardize feedback and describe the process for validation."
SAVANNAG, Ga. (PRWEB) November 30, 2017
The paper, "Establishing Validity for the Limbs and Things Laparoscopic Hysterectomy Trainer" written by Dr. DeStephano and his colleagues* at the Mayo Clinic in Jacksonville, FL describes validity evidence supporting use of the Limbs & Things Surgical Female Pelvic Trainer (SFPT) for training in Obstetrics and Gynecology residency programs. Dr. DeStephano and his team were also recipients of the 2017 The APGO (The Association of Professors of Gynecology and Obstetrics) Exxcellence Award for another abstract.
The SFPT is a simulator for training in a wide range of laparoscopic gynecological surgical techniques and procedures. It also allows for dissection techniques, insertion and use of uterine manipulators and other gynecology instruments, and the identification of anatomical landmarks.
"We saw that there was significant variation in the feedback residents were receiving in the operating room compared to the simulation setting. With blinded evaluations of trainees using the Limbs & Things model, we were able to standardize feedback and describe the process for validation," said Dr. DeStephano.
The IRCAD award is presented to recognize the best research in education acknowledging innovative ideas in teaching. Through a grant provided by Karl Storz Endoscopy, Dr. DeStephano will travel to Strasbourg, France to participate in a minimally invasive surgery course at the European Institute of Telesurgery, University of Strausbourg.
Dr. DeStephano was presented with the award at the AAGL Global Congress on November 12, 2017. Limbs & Things exhibited at the conference and provided hands-on demonstrations of the trainer.
*Co-authors: Anita H. Chen, MD Mayo Clinic Department of Surgical Gynecology; Michael Heckman, MS; Nicolette T. Chimato, BS; Mayo Clinic Division of Biomedical Statistics and Informatics; Paulami Guha MBBS; Mariana Espinal, MD; Tri A. Dinh, MD; Mayo Clinic Department of Surgical Gynecology
Limbs & Things was established in Bristol, England in 1990 by medical artist Margot Cooper. The business focuses on the development, manufacture and sale of medical training products for healthcare professionals and students worldwide. They are committed to working in close collaboration with clinicians globally to produce realistic task trainers, which enable more competent and confident professionals, with the ultimate aim of improving patient outcomes and reducing medical error.
Limbs & Things have offices in the UK, US, Australia and Sweden, as well as partnerships with distributors worldwide.
Share article on social media or email: