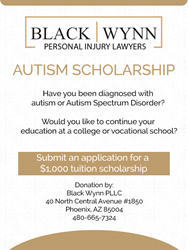 PHOENIX (PRWEB) March 18, 2019
Phoenix attorneys David A. Black and William H. Wynn have announced that their firm, Black Wynn, PLLC, a Phoenix personal injury law firm, will be offering an educational scholarship open to persons diagnosed with Autism Spectrum Disorder (ASD). The firm has granted educational scholarships since 2017.
ASD, or autism, refers to a range of conditions that present challenges in the areas of social skills, communications, and other aspects of daily living. The symptoms of ASD vary from person to person, and often result in additional challenges in the educational setting. As a result, it is estimated that approximately one-half of those diagnosed with autism remain unemployed and not enrolled in school during the two-year period following high school. It is also estimated that last year, approximately one in 59 children in the U.S. was affected by ASD.
In offering this scholarship, the principals and staff of the firm seek not only to ease the financial strain associated with continuing education, but also to provide encouragement to those with autism to move forward to attain their educational goals.
The opportunity is open to any United States citizen who has been diagnosed with autism (ASD) and who intends to continue with his or her education at a trade school or at the college level. Enrollment and/or attendance at school at the time of submission of the application is not a requirement.
We urge those who may be interested in applying for the scholarship or learning more about the firm's scholarship program, as well as anyone who would like additional information, to visit the firm's website, which spells out the process and includes the application details. The deadline for the submission of applications for the current autism scholarship is February 24, 2020.
Inquiries should be directed via email to:
Black Wynn PLLC
40 North Central Avenue, Suite 1850
Phoenix, Arizona 85004
480-665-7324
michael@blackwynn.com
Share article on social media or email: