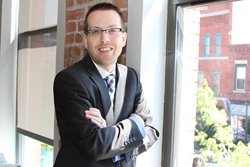 "Why I love being a lawyer -- being a lawyer is about helping people in their stressful life moments. I also enjoy the variety of my day.
KANSAS CITY, Mo. (PRWEB) September 06, 2018
Attorney Timothy Starosta is celebrating his tenth-anniversary practicing bankruptcy law and as owner of The Starosta Law Firm. "Why I love being a lawyer -- being a lawyer is about helping people in their stressful life moments. I also enjoy the variety of my day. I could spend the morning representing people paying their debts or becoming debt free, the afternoon as a dad with my kids and then the evening into the wee hours of the morning tackling esoteric legal issues arising from civil litigation," said Starosta.
Starosta earned a Bachelor's degree from the University of Missouri – Kansas City while working full-time as a sales rep in the now-closed Metro North Mall. He later received his Juris Doctor from the University of Tulsa College of Law in May 2008.
The mission of The Starosta Law Firm is to develop clients for life and build a friendship where they will be working towards the same goals. "The Starosta Law Firm provides a broad range of exceptional legal services through personalized, thorough service that results in honest and practical solutions to the client's legal trouble," added Starosta.
"Timothy was very professional. He always got back to me in a timely manner or sometimes, there was no wait at all," said client Carla D. "He handled my case very efficiently. It was a great experience and I would highly recommend him to anyone."
In addition to law, Starosta is a board member of the Northland Symphony Orchestra. The orchestra is a group of professional, student and community musicians that offers free, high-quality performances to the greater Kansas City area. He has also volunteered his time as a tax preparer for low-income households. Starosta has been married 13 years to his high school sweetheart and they have two kids.
About Timothy Starosta, The Starosta Law Firm
Timothy Starosta is a member of the Missouri Bar Association, Kansas Bar Association, U.S. District Court, Western District of Missouri and U.S. District Court, District of Kansas. The Starosta Law Firm focuses on bankruptcy law, including civil litigation, divorce, child support, real estate and mortgage issues, personal Injury, and workers' compensation. For more information, please call 816-399-5733, or visit http://www.816attorney.com.
About the NALA™
The NALA offers small and medium-sized businesses effective ways to reach customers through new media. As a single-agency source, the NALA helps businesses flourish in their local community. The NALA's mission is to promote a business' relevant and newsworthy events and achievements, both online and through traditional media. The information and content in this article are not in conjunction with the views of the NALA. For media inquiries, please call 805.650.6121, ext. 361.
Share article on social media or email: