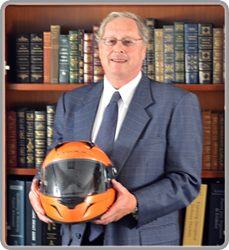 Depending on the level of fault (or lack thereof), an attorney experienced in motorcycle accidents can help figure out what level of settlement one can actually receive.
SAN FRANCISCO (PRWEB) January 24, 2019
Putting the trust of one's legal needs and strategy into the hands of a motorcycle accident specialist can yield better outcomes than when hiring a conventional lawyer. With over 40 years of experience, Padway has seen almost every type of incident and has helped thousands of thankful clients win their cases. While many are not familiar with motorcycle-specific lawyers, Padway has listed the following points to be mindful of if and when the need arises.
Determines what the case is worth. A great motorcycle attorney can assess and determine if and how much compensation you may receive. "Depending on the level of fault (or lack thereof), an attorney experienced in motorcycle accidents can help figure out what level of settlement one can actually receive," said Padway. "Much like selling a home without a Realtor, a large sum of money can be left on the table if one goes it alone."
Negotiating for a complete insurance settlement. Before a client's case can be settled correctly, a motorcycle accident attorney lays the foundation for a settlement negotiation. "There is no way of getting the right settlement amount if the other side is not presented with what they need within their evaluation system. Insurance companies use sophisticated software designed to guide their negotiations. These programs are for the purpose of getting a low settlement. Something needs to balance the negotiation on the side of the injured rider," noted Padway.
Motorcycle attorneys fight for you in court. At the end of the day, the reason that cases settle is so that the insurance company can avoid being forced to pay because of a jury verdict. An attorney willing to do the work is a must. Simply sending a letter is rarely sufficient to motivate an insurance company into making their best offer. Working with a motorcycle attorney gives the client the advantage of expertise and experience in these types of cases, usually favoring the client in many court appearances.
"Your case is obviously going to be worth more if your case is well presented. That requires strategy, a process aimed at getting things into the right order, and a lot of hard work," added Padway. "Why go to court alone and unprepared when an attorney can do all the heavy lifting and you get more money as well?"
An attorney knows when your case is capable of evaluation. You only get one settlement per case, so it needs to take into account how your injuries will probably affect you in the future. You need to be at "maximum medical improvement" and "permanent and stationary" so that your case has the best chance of being evaluated correctly. "There is no sense in rushing a case into settlement, only to find that a major development was not taken into account in evaluation. It can be hard to wait until the case is ready for evaluation, but it is harder to discover that the injuries are far worse than anticipated, when it is too late to take that into account in settlement," concluded Padway.
When Padway isn't busy running his Michael Padway & Associates law firm he is a rider who enjoys the wide open road riding his own motorcycles and passionately staying on top of the latest trends in motorcycle technology and law.
About Michael Padway, Michael Padway & Associates
Michael Padway uses his expertise in personal injury and motorcycle accidents to represent a broad spectrum of clients dealing with life-changing and permanent injuries for the first time. For more information, please call (800) 928-1511, or visit http://www.michaelpadway.com.
For media inquiries, please call the NALA at 805.650.6121, ext. 361.
Share article on social media or email: