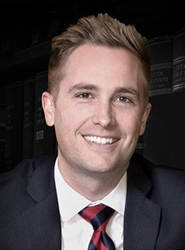 WEST FRANKFORT, Ill. (PRWEB) November 27, 2018
Sam C. Mitchell & Associates in Southern Illinois has long been known as a personal injury law firm dedicated to excellence and the utmost client satisfaction. In continued pursuit of this goal, the firm has recently named Attorney Matthew H. Caraway as a partner of the firm.
Attorney Caraway has a decorated past of service to those who need a voice, protection, and representation. He served for seven years in the Illinois Air Nation Guard and became a Staff Sergeant in Operation Enduring Freedom and a veteran of Operation Iraqi Freedom. Upon his return from the Middle East, he interned with the Air Force Judge Advocate General's (JAG) Office, sparking his passion for the law and ensuring justice.
After receiving an honorable discharge in 2008, he would soon graduate from the University of Illinois, Magna Cum Laude. Prior to joining Sam C. Mitchell & Associates, he was able to gain unique and powerful insight as a defense attorney for major Fortune 500 companies in injury lawsuits. Taking this incredible experience to the other side of the courtroom has been a boon for his clients today. Thanks to his constant focus on bettering himself and doing what is right for people in need, he has been granted membership to numerous associations, such as the Lion's Club and the Illinois Trial Lawyers Association. Attorney Caraway has also been selected by The National Trial Lawyers Top 40 Under 40.
Sam C. Mitchell & Associates believed in putting up the good fight for people who have been seriously injured due to the negligence and wrongdoing of others. As a partner, Attorney Caraway embodies exactly what makes the firm strong and stand out. To learn more about Attorney Caraway or Sam C. Mitchell & Associates in South Illinois, inquiring parties can visit https://www.scmitchell.com/.
Share article on social media or email: