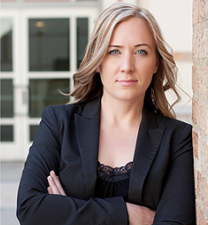 If a driver selects a test and is unable to complete that test then it is required by law that the driver be re-offered the remaining test.
Past News Releases
Southern California (PRWEB) October 10, 2017
Every person has the unqualified right to due process of the law, even if arrested for DUI. Southern California DUI defense attorney Kellee Parker Harris, founder of Parker Law Center, recently represented a client who was arrested on suspicion of DUI. Due to her advanced age and the fact that she was on blood thinners she was not able to complete a breath test nor a blood test.
Furthermore, attorney Parker's client was not offered a urine sample as the officer did not have one immediately available. Attorney Parker's client was deemed a refusal by the officer and subsequently by the local Driver Safety Office, despite the fact that the client did not refuse to submit to testing; thus, her license was suspended for one year and she was unable to apply for a restricted driver's license.
Attorney Parker appealed the Driver Safety Office's Findings & Decision; ultimately, the action was set aside. "The precedent set forth that an officer can choose not to provide a urine sample for a person with a medical condition and have the DMV just deem the person a refusal is a direct violation of California law under Vehicle Code Section 23612 and the United States Constitution," said Parker. "Furthermore, it's a violation of equal protection of the laws."
To further educate drivers on California law concerning DUI, Parker lists the following two tips:
No. 1: Preliminary alcohol screening (PAS) tests, under most circumstances, are voluntary. If a person is 21 or older and not on probation for a DUI then the preliminary alcohol screening (PAS) test is voluntary. The PAS test is known as the breath test prior to arrest. The results of the PAS test are used in order to help the officer gauge the person's blood alcohol level, and strengthen the officer's probable cause to arrest the individual. While not all officers provide the required PAS admonition, which informs an individual the test is voluntary, one should know that he/ she does have the right to decline the PAS testing as long as the person is not under 21 years of age and not on probation for DUI.
No. 2: Following arrest, everyone must submit to a chemical test (breath or blood or under certain circumstances urine) per Vehicle Code Section 23612. Failure to submit to the chemical test deems one a refusal. Should a person refuse to submit to the chemical test, the officer must read the chemical admonition which admonishes the driver of the consequences of refusing. Once the chemical admonition has been provided, the officer is then required to ask the driver if he or she will submit to a breath test and a blood test, or under certain circumstances a urine test. The officer is to record the driver's response to each applicable test. "If a driver selects a test and is unable to complete that test then it is required by law that the driver be re-offered the remaining test," concluded Parker.
Should the Driver Safety Office determine that a driver refused to submit to or failed to complete a chemical test, then the driver is prohibited from applying for a restricted driver's license. On a first refusal action the suspension period is one year. On a second action with a refusal designation the suspension period is two years, again with no eligibility to obtain a restricted license.
To hear Attorney Parker discuss DUI law further, please visit: http://thenala.com/north-american-speaker-series/kellee-parker-esq.
About Kellee Parker Harris, Parker Law Center
Kellee Parker Harris is a Southern California DUI defense attorney. She is also a professor with the Criminal Justice Department at California State University, Long Beach where she teaches criminal procedure, constitutional rights, and criminal court processes. Attorney Parker is a member of the California DUI Lawyers Association, National Association of Criminal Defense Lawyers, and National College for DUI Defense. Parker Law Center, APC provides legal services throughout Southern California, including Los Angeles, Orange, Riverside, San Bernardino, San Diego, and Ventura counties. For more information, please call (800) 805-8804, visit http://www.parkerlawcenter.com or https://goo.gl/H6DbmZ.
About the NALA™
The NALA offers small and medium-sized businesses effective ways to reach customers through new media. As a single-agency source, the NALA helps businesses flourish in their local community. The NALA's mission is to promote a business' relevant and newsworthy events and achievements, both online and through traditional media. The information and content in this article are not in conjunction with the views of the NALA. For media inquiries, please call 805.650.6121, ext. 361.
Share article on social media or email: