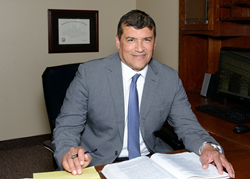 Past News Releases
SAN DIEGO (PRWEB) October 17, 2017
Criminal defense attorney Jose C. Rojo, founder of the Law Offices of Jose C. Rojo, recently prevented the State prosecution from convicting his client, Damien Fernandez, who suffers from a mental disorder, of attempted murder (Case No. INF 1402269, filed in Superior Court of California County of Riverside). The case stems from an incident in which the defendant allegedly wilfully, unlawfully and with malice aforethought attempt the willful, deliberate and premeditated murder of a human being. The attempted murder charges carry a potential life in prison sentence.
According to court documents, however, the jury deadlocked because certain jurors were not convinced that the defendant, due to his mental disorder, had formed the intent to kill, so were unable to unanimously reach a verdict.
Court documents further state that the defendant was convicted of assault with a deadly weapon and causing great bodily injury in the case. In that charge, there will be another jury trial for the sanity phase.
About Jose C. Rojo, Law Offices of Jose C. Rojo
Jose C. Rojo focuses on criminal defense and civil litigation. He has litigated cases from before filing to verdict and through appeals in many courts of appeal and in the U.S. Supreme Court. He is a member of the United States Supreme Court, California State Bar, United States Court of Appeals for the Seventh Circuit, United States Court of Appeals for the Ninth Circuit, United States Court of Appeals for the Tenth Circuit, United States District Court for the Southern District of California, United States District Court for the Central District of California and United States District Court for the Northern District of Illinois. For more information, please call (619) 298-6522, or visit http://www.rojolawoffice.com. The law office is located at 3745 Fourth Ave., San Diego, CA 92103.
About the NALA™
The NALA offers small and medium-sized businesses effective ways to reach customers through new media. As a single-agency source, the NALA helps businesses flourish in their local community. The NALA's mission is to promote a business' relevant and newsworthy events and achievements, both online and through traditional media. The information and content in this article are not in conjunction with the views of the NALA. For media inquiries, please call 805.650.6121, ext. 361.
Share article on social media or email: