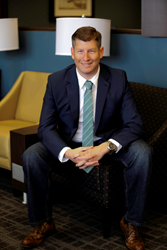 A patent protects new and useful inventions. A trademark protects brands; essentially, trademarks protect the identifying source of goods or services.
Past News Releases
Scottsdale, AZ (PRWEB) October 09, 2017
Attorney Jeffrey Herman, founder of the Law Office of Jeffrey Herman, PLC, in a recent NALA North American Speaker Series (NASS) segment illustrates the three governmentally created types of intellectual property: patents, trademarks and copyrights. The NALA's NASS gives small and medium-sized business owners a unique platform to present their stories and industry expertise to a diverse, hyper-local audience through short, poignant audio segments.
In his NASS segment, Herman explains how the different types of intellectual property may be obtained and how they are useful for a small business, individual or company. "A patent protects new and useful inventions. A trademark protects brands; essentially, trademarks protect the identifying source of goods or services," said Herman. "Copyrights protect originality, or original authorship."
Furthermore, there are three types of known patents for which a person can file. A utility patent is the most common and sought-after, and is valid for 20 years. A utility patent protects the way an invention or new product functions, whereas a design patent protects the way something looks, such as a new type of chair, and is valid for 14 years. Then there is a plant patent, which protects a new type of plant that is bred.
In regards to trademarks, they are valid indefinitely, so long as the trademark holder maintains the trademark in good status. "The trademark and a patent are both applied through the United States Patent and Trademark Office," added Herman. Lastly, a copyright is valid for a full lifetime plus 70 years, and protects original authorship.
"Achieving intellectual property gives the holder power to enforce legally protected rights. These Federally recognized rights serve to exclude others from protected turf as the landlord (rights holder) has ultimate command how that turf is used," concluded Herman. "Issued rights, even pending rights, can also be very valuable for marketing purposes."
To listen to Herman's NASS segment in its entirety, please visit http://thenala.com/north-american-speaker-series/jeffrey-herman.
About Jeffrey Herman, Law Office of Jeffrey Herman, PLC
Jeffrey Herman is admitted to the State Bar of California and the Supreme Court of the United States of America. He is also a member of the Notary Public in Arizona and the American Bar Association. The Law Office of Jeffrey Herman specializes in intellectual property and business law, including trademarks, copyrights, contracts, license agreements and more. For more information, please call 1-844-454-3762, or visit http://www.jhermanlaw.com.
About the NALA™
The NALA offers small and medium-sized businesses effective ways to reach customers through new media. As a single-agency source, the NALA helps businesses flourish in their local community. The NALA's mission is to promote a business' relevant and newsworthy events and achievements, both online and through traditional media. The information and content in this article are not in conjunction with the views of the NALA. For media inquiries, please call 805.650.6121, ext. 361.
Share article on social media or email: