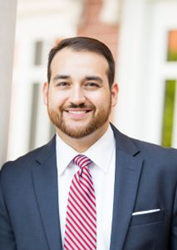 I am honored to become a partner at such a well-respected firm. I plan to continue to provide attentive service to our clients, effectively representing victims and diligently pursuing all avenues of compensation through negotiation and litigation, says Mr. Garon Muller
AUGUSTA, Ga. (PRWEB) November 08, 2019
Attorney Garon Muller has been at the Burnside Law Firm since April of 2016, focusing primarily on personal injury cases. Prior to his current role as a personal injury trial lawyer, he served as an assistant district attorney for the Augusta Judicial Circuit. Mr. Muller and the Burnside Law Firm team specialize in helping clients recover from devastating losses, ranging from catastrophic injuries and wrongful death to medical malpractice and work-related accidents. Mr. Muller has focused his specific practice on helping individuals that were injured due to car accidents, workplace injuries, premises injuries and defective products.
"I am honored to become a partner at such a well-respected firm where I can focus my career on helping those who have been injured by others' negligence. I plan to continue to provide attentive service to our clients, effectively representing victims and diligently pursuing all avenues of compensation through negotiation and litigation," says Mr. Garon Muller
Burnside Law Firm is a plaintiff's personal injury practice. The attorneys believe in going the extra mile for their clients and taking a personal, collaborative approach. They make the legal process as smooth and efficient as possible, ensuring that victims understand the status of their case and available options at all times. The legal team also works to perform thorough research and investigation into the circumstances surrounding an injury. With offices in Augusta, Atlanta and Athens, Georgia, and over thirty years of collective experience in personal injury law and a proven track record, the attorneys at Burnside Law Firm stand ready to help those in need of representation.
More About Attorney Garon Muller:
Garon Muller attended law school at Mercer University in Macon. He became a member of the Georgia Bar Association in 2011. Mr. Muller has served on the Executive Council of the Young Lawyers Division of the State Bar of Georgia and has served as a southern district representative for the Young Lawyers Division. In 2018, Mr. Muller was named as one of the Top 10 Young Professionals to Watch by Augusta Magazine, and he is a graduate of the 2018 GTLA LEAD Class. He is dedicated to serving the community and is the incoming president of Turn Back the Block, a local nonprofit organization whose mission is to revitalize the Harrisburg neighborhood. Garon and his wife Ashley have one son, Knox.
For more information about Burnside Law Firm or Mr. Garon Muller, visit http://www.burnsidefirm.com or contact the toll-free number (800) 569-1937.
Share article on social media or email: