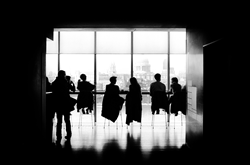 "I am honored to be a part of a program with so many distinguished attorneys. It is important for us to keep up with new developments in the law so that we can provide the best possible representation for our clients." - Edward C. Olson
MINNEAPOLIS (PRWEB) July 31, 2018
Attorney Edward C. Olson, a partner at Disability Attorneys of Minnesota, is scheduled to speak at the Iowa State Bar Associations 8th Circuit Social Security Disability Conference, which takes place from August 1-3 in Des Moines, IA. Olson will be discussing new happenings in the 8th Circuit and vocational issues.
"I am honored to be a part of a program with so many distinguished attorneys. It is important for us to keep up with new developments in the law so that we can provide the best possible representation for our clients," said Olson.
The three-day conference will feature the top Social Security disability lawyers from the Midwest and around the country. Presenters will introduce strategies and personal tips to improve colleagues' Social Security disability practices. The conference promises to be one of the best opportunities of the year for Social Security attorneys to sharpen their skills.
"I do my best to stay current in the happenings of my industry. I do everything in my power to ensure my representation to clients is more effective," concluded Olson.
About Edward C. Olson, Disability Attorneys of Minnesota
Edward C. Olson, since 1991, has focused his practice on helping disabled workers receive the benefits they are owed, and has extensive legal experience guiding clients through the application and appeals process. He is a member of the Minnesota Bar, U.S. District Court District of Minnesota and U.S. Court of Appeals 8th Circuit. For more information, call (877) 317-4576, or visit http://www.disabilitymn.com.
About the NALA™
The NALA offers small and medium-sized businesses effective ways to reach customers through new media. As a single-agency source, the NALA helps businesses flourish in their local community. The NALA's mission is to promote a business' relevant and newsworthy events and achievements, both online and through traditional media. The information and content in this article are not in conjunction with the views of the NALA. For media inquiries, please call 805.650.6121, ext. 361.
Share article on social media or email: