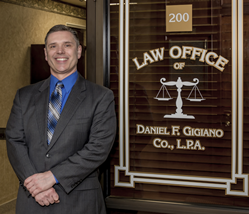 WADSWORTH, Ohio (PRWEB) April 08, 2019
Attorney Daniel Gigiano recently launched the new website for his law firm, Daniel F. Gigiano Co., L.P.A. This website replaces the one that has been live since 2013, providing clients of a way to learn about the legal services Attorney Gigiano provides. However, the internet has progressed so much during that time, it was time to upgrade. Attorney Gigiano commented that "the old website fell behind the rapid increase in the technology the world wide web utilizes. While it served its purpose, the new site is much more dynamic, interactive and secure. The content is better organized, and it is much easier for clients to contact us through the secure contact portal." The photographs of Attorney Gigiano and his office were updated to photographs from 2019. Attorney Gigiano is a strong supporter of local business and his website was no exception. He hired a photographer from Wadsworth and a website builder from Medina. "Our local communities have a wealth of talent and know-how that we should definitely use. I don't just serve the communities of Medina County, Wayne County and Summit County. I support the local businesses, too. That does not just mean a nice meal,buying an old book or antique, or buying office supplies. It also means hiring local professionals. My website was no exception."
The new website provides a cleaner, more streamlined approach to displaying the firm's profile and services. Utilizing more modern technology, the site is much easier to navigate on any platform—mobile, tablet or desktop. The slider is a wealth of information in a smaller space.
In business since 2002 and known as Daniel F. Gigiano Co., L.P.A., Attorney Gigiano provides legal services for the people of Medina County, Wayne County and Summit County, and, occasionally, the those in the counties surrounding that area. The firm provides legal representation in the areas of family law, criminal defense, personal injury, civil litigation, estate planning, real estate deeds, probate, bankruptcy, business organization, and business representation. By providing a variety of services, clients can return to the attorney they have grown to know and trust, time and again.
Attorney Gigiano's office is located at 102 Main Street, Suite 200, Wadsworth, Ohio 44281 The firm can be reached at 330-336-3330.
The new website can be found at http://www.gigianolaw.com .
Share article on social media or email: