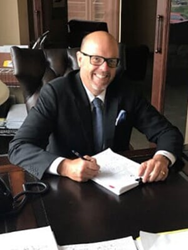 I work hard and make myself available at any time for my clients. I have no plans on retiring anytime soon.
Past News Releases
Denver, CO (PRWEB) December 14, 2017
D. Chadwick Calvert is celebrating his thirtieth anniversary as an attorney. "I have a passion and drive to help people, serve others and fight for what's right," said Calvert, a Denver native. "I work hard and make myself available at any time for my clients. I have no plans on retiring anytime soon."
Calvert primarily focuses on motor vehicle and motorcycle accidents, and during the course of his distinguished thirty-year career has handled thousands of cases. He has extensive experience in all types of accidents and has an excellent understanding of Colorado's laws, including all issues that may consist from the most simple to the more complex motor vehicle accidents.
"I hired Mr. Calvert as a recommendation from my neighbor. His office was very professional, his assistant was very helpful, and I am satisfied with my settlement," said client Asil M. "I was surprised with the amount I received, actually, because insurance companies just pay very little and Mr.Calvert made sure I got the maximum I could get. He tripled my expectations on my settlement all around."
In addition to law, the Law Office of D. Chadwick Calvert is passionate about helping the community. It is an ardent supporter of Bags of Fun from the Gabby Krause Foundation, which provides bags filled with playthings to children hospitalized and fighting cancer and other long-term diseases.
About D. Chadwick Calvert, Law Office of D. Chadwick Calvert, LLC
D. Chadwick Calvert focuses on motor vehicle accidents, motorcycle accidents, truck accidents and large commercial vehicle accidents. The Law Office of D. Chadwick Calvert helps injured people throughout Colorado get the money they need to move forward with their lives after a serious accident, and handles mass tort litigation cases. For more information, please call (303) 740-7040, or visit http://www.lawofficedenver.com. The law office is located at 7354 S. Alton Way, Centennial, CO 80112.
About the NALA™
The NALA offers small and medium-sized businesses effective ways to reach customers through new media. As a single-agency source, the NALA helps businesses flourish in their local community. The NALA's mission is to promote a business' relevant and newsworthy events and achievements, both online and through traditional media. The information and content in this article are not in conjunction with the views of the NALA. For media inquiries, please call 805.650.6121, ext. 361.
Share article on social media or email: