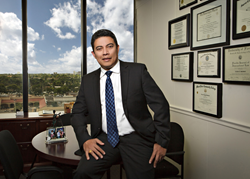 Proper representation is important because if they deny your case, you end up in front of an immigration judge.
HOLLYWOOD, Fla. (PRWEB) October 30, 2018
The first memo allows the U.S. Citizenship and Immigration Services (USCIS) to deport more immigrants, and the second makes it easier for USCIS to deny more applications.
While the 2013 memo provided that RFEs should be issued "when the facts and the law warrant," it also stated that an adjudicator should issue an RFE unless there was "no possibility" that the deficiency could be cured by submission of additional evidence. The effect of the "no possibility" policy was that only statutory denials (such as a denial where a nonexistent benefit is requested) would be issued without an RFE or a NOID.
This new memo clarifies how those filings, as well as filings lacking required initial evidence, should be treated. This memo outlines how the USCIS Notice to Appear (NTA) and referral policies implement the Department of Homeland Security's removal priorities. It also provides that the Federal Government will no longer exempt classes or categories of removable aliens from potential enforcement.
"If USCIS denies your case and you are here illegally, they will put you in front of an immigration judge. This is risky because if you file an application to become a resident and there is something missing, they could deny your case and send you a notice to appear in front of an immigration judge to be deported," said Sandoval, founder of Carlos E. Sandoval, P.A.
In order to educate immigrants on how to deal with this memo, Sandoval lists the following four tips:
No. 1: Hire an immigration attorney. "This is imperative, especially with the way immigration laws are changing," stressed Sandoval. "Proper representation is important because if they deny your case, you end up in front of an immigration judge."
No. 2: Ensure you have everything completed in your request. Make sure the application has all the required documents and nothing is missing.
No. 3: Plan ahead. "You can't do this in a rush; preparation is very important on this application," noted Sandoval. "Some things take more time to put together for this application and if you try to rush it, you could miss vital information that needs to be included."
No. 4: Follow the news. "This will help give you insight on what is the most recent memo and what to do," concluded Sandoval.
About Carlos E. Sandoval, Attorney at Law
Carlos E. Sandoval is a member of the Florida Bar, the American Immigration Lawyers Association, the Broward County Hispanic Bar Association and the Broward County Bar Association. Carlos, who speaks fluent English and Spanish, is licensed to practice law by the Florida Supreme Court and the Federal Court for the Southern District of Florida. He focuses his practice in all areas of immigration, naturalization and removal. For more information or a consultation, call (954) 306-6921, or visit http://www.carlosesandoval.com. The law office is located at 450 N. Park Road, Suite 803, Hollywood, FL 33021.
About the NALA™
The NALA offers small and medium-sized businesses effective ways to reach customers through new media. As a single-agency source, the NALA helps businesses flourish in their local community. The NALA's mission is to promote a business' relevant and newsworthy events and achievements, both online and through traditional media. The information and content in this article are not in conjunction with the views of the NALA. For media inquiries, please call 805.650.6121, ext. 361.
Share article on social media or email: