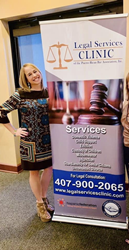 The clinic is open for the indigent only. All applicants must show that they have minimal income to qualify for the service.
ORLANDO, Fla. (PRWEB) June 21, 2019
The Legal Services Clinic of the Puerto Rican Community Inc. is located at 513 W. Colonial Drive, Orlando, FL 32804. Operating hours are from 9 a.m. to 5 p.m., Monday through Friday. "The clinic is open for the indigent only," said Suarez, an award-winning attorney who has over 41 years of experience. "All applicants must show that they have minimal income to qualify for the service."
The clinic was initially founded to cure a drastic need brought on by the devastation of hurricane Maria to Puerto Rico, and to serve the influx of Puerto Ricans arriving from the island who needed legal assistance. However, the clinic is also open to the general public, not just Puerto Rican migrants. Its legal services include domestic violence, child support, evictions, custody of children, misdemeanors, injunctions, power of attorney and uncontested divorces.
Attorneys who work with the clinic include Yanira Sierra, who came from Puerto Rico after Hurricane Maria. Sierra was an Assistant State Attorney for 14 years in Puerto Rico. "I met attorney Suarez and talked about his plans and the creation of a legal services clinic to help people from Puerto Rico and displaced attorneys, among other purposes," said Sierra. "He called me to begin working on this wonderful dream as a volunteer. To serve and help people has always been my pleasure in life."
Another attorney at the clinic is Victor Rojas, who opened up his own practice in Puerto Rico until Hurricane Maria hit. "As part of the group of Puerto Ricans who were forced to flee the island, I landed in Orlando where by God's grace I ended up working for the Legal Services Clinic," he stated. "As part of this new challenge, we've been able to provide legal assistance to those less fortunate in the area of Central Florida and give justice to those in greatest need of it."
For those needing the assistance of Legal Services Clinic of the Puerto Rican Community, walk in or call 407-900-2065 to set an appointment. To donate to the clinic., please visit https://legalservicesclinic.com/donations/donation-form/.
Suarez is a longtime supporter of the Puerto Rican community. In fact, the Puerto Rican Bar Association, with the help of Suarez, also instituted The Student Temporary Assistance for Relocation (STAR) program to help relocate legal students. The program was instrumental in helping to place 32 law students from the University of Puerto Rico into corresponding stateside law schools as far away as the University of Buffalo so that these law students wouldn't lose a year of academics.
Many of the schools took the students in tuition-free, and in some cases the schools on the mainland even provided housing at no cost for the transferring students. Luis Rodriguez, who was in a class of Tony Suarez's son, Christian Lloyd Suarez at Barry Law School in Orlando while he was in the STAR program, is one of those students. He spent more than 12 hours in a closet with his wife and newborn baby during the hurricane. He transferred to Barry Law School in Orlando after the storm and recently graduated.
About Legal Services Clinic of the Puerto Rican Community Inc.
Legal Services Clinic of the Puerto Rican Community serves residents of Florida through a combined staff of committed full-time attorneys, many of which were displaced by Hurricane Maria themselves. The Florida Supreme Court allows these attorneys to practice law in the state of Florida, provided they work for a clinic of this type and intend to sit for the Florida Bar Examination. Members of the local voluntary bar, Puerto Rican Bar Association of Florida, took the lead in providing pro bono legal services by creating and supporting a mandatory pro bono policy for its members. Attorneys take two cases a year, participate in projects and contribute financially to Legal Services Clinic. For more information, please call 1-800-658-1059, or visit https://legalservicesclinic.com/.
About Anthony Suarez, Suarez Law Group, P.A.
Anthony Suarez has tried hundreds of jury trials and argued dozens of cases before appellate courts. He takes on high-profile criminal trials in Florida, as well as acting as a real estate broker and mortgage broker in New York and Florida. Practice areas of Suarez Law Group include Contract, Criminal, Felony, Misdemeanor, Domestic Violence, Eviction, Foreclosure, Chapter 7 Bankruptcy, Insolvency, Insurance, Litigation, Real Estate, Short Sales, and Governmental Relations, including strategists for political campaigns. For more information, please call (407) 841-7373, or visit http://www.suarezcti.com/.
For media inquiries, please call the NALA at 805.650.6121, ext. 361.
Share article on social media or email: