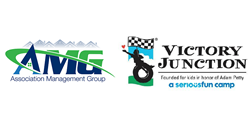 AMG is dedicated to giving back to the communities we manage and to serving the Triad at large.
GREENSBORO, N.C. (PRWEB) September 20, 2017
Association Management Group (AMG), one of the Carolinas' leading homeowners association management companies, will serve as a Driving Range Sponsor in the 2017 Majestic Floor Covering Premiere Charity Golf Tournament on Oct. 13, 2017 All proceeds for this tournament will benefit Victory Junction, a summer camp for children living with mental, physical and developmental disabilities.
AMG President, Paul K. Mengert, said he was honored to be able to sponsor a portion of the golf tournament, adding to the growing list of philanthropy performed by his community association management company.
Mengert says, "AMG is dedicated to giving back to the communities we manage and to serving the Triad at large. Our participation in this tournament is just one of the ways in which we do this. I am thrilled that AMG can help children with disabilities attend camp, where they can have fun, enjoy a variety of outdoor activities and meet new friends."
Victory Junction was founded in 2002 as the brainchild of the late NASCAR driver Adam Petty, whose passion was working with children living with disabilities. Today, Victory Junction serves children ages 6-16 with a wide range of disabilities, providing medically safe and exhilaratingly fun challenges- always at no cost to the children or their families. At this year's tournament, Majestic Floor Covering hopes to raise $50,000 for Victory Junction, enough to send 20+ children to camp for a week of life-changing experiences.
"We are proud to be working with a great organization like Victory Junction," said Mike Key, owner of Majestic Floor Covering. "Those of us with healthy children cannot relate to the challenges faced by parents of children with chronic medical conditions or serious illnesses. If not for Victory Junction, these children might miss out on many of the activities we take for granted".
For further information on Victory Junction, visit https://victoryjunction.org/
For more information about AMG'S philanthropy, contact Jpaz(at)amgworld.com
About Association Management Group: AMG is the Carolinas' leading professional community Association management company dedicated to building effective, successful community Associations. AMG guides and assists executive boards to help protect the Association's interests, enhance the lives of community members and improve the property values of the community. With offices throughout the Carolinas in Greensboro, Winston-Salem, Charlotte and Raleigh, N.C., as well as Greenville, S.C., AMG is a knowledgeable partner in enforcing community governing documents with a proven set of processes and techniques. AMG specializes in supporting communities with a broad range of services that can be tailored to individual community needs. Association Management Group, Inc. is a locally Accredited Business by the BBB, as well as a nationally Accredited Association Management Company (AAMC) by the Community Associations Institute.
Share article on social media or email: