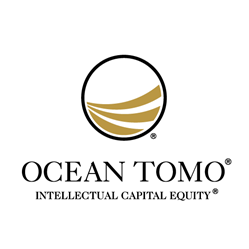 The Ocean Tomo AI Report contains important details regarding the Singapore Patent Office AI program eligibility and patent claim limitations.
CHICAGO (PRWEB) May 31, 2019
Ocean Tomo Analyst Kevin Bennett releases update to the Ocean Tomo Industry Analyst Report on Artificial Intelligence (AI). The announcement last month from the Intellectual Property Office of Singapore (IPOS) provides important details regarding the commitment to cut the timeline for AI patent issuance from up to 24 months to less than six months. The Ocean Tomo AI Report contains important details regarding eligibility as well as patent claim limitations. You can request a copy of the study here.
The rationale for the IPOS patent prosecution change is outlined by their CEO Daren Tang who said, "AI has become one of the biggest drivers of technological and societal change in the world, and it will increasingly underpin Singapore's drive to build a digital economy."
Ocean Tomo CEO, James E. Malackowski was not surprised by the announcement, indicating, "Ocean Tomo has met with a number of governmental bodies and IP-focused NGO's throughout Europe and Asia seeking to understand better how their national patent office can facilitate local economic development. As a significant emerging technology, efforts to attract AI investment is likely the first of many such efforts."
About Ocean Tomo
Ocean Tomo, the Intellectual Capital Merchant Bank® firm, provides companies with financial services related to intellectual property and intangible assets including financial expert testimony, valuation, strategy consulting, investment advisory, innovation management consulting and transaction brokerage.
Our Opinion, Management, and Advisory Services are built upon more than three decades of experience valuing intellectual property in the most rigorous of venues – State, Federal and international courts. Our financial, market and technical experts provide a unique understanding of the contributory value of proprietary innovation. This is the cornerstone of our business. This insight permeates every practice.
Subsidiaries of Ocean Tomo include Ocean Tomo Investment Group, LLC, a licensed broker-dealer under Federal and State securities law (brokercheck.finra.org Broker Check CRD #: 172912) and Ocean Tomo Hong Kong Ltd., dba, Ocean Tomo China, a joint venture between Ocean Tomo and Sinofaith IP Group.
Share article on social media or email: