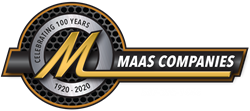 The bank recently went through an ownership change and the new management is motivated to get these properties in the hands of new owners that will develop or reopen the properties
ROCHESTER, Minn. (PRWEB) April 03, 2019
Developers, individuals and investors will have the opportunity to purchase tracts of residential and commercial development land in Dodge Center later this spring, along with the former A & W Restaurant located in Pine Island. Maas Companies Inc, an auction company specializing in selling real estate, industrial plants, equipment and special assets is handling the sale. The assets are selling via a sealed bid auction; the deadline for offers is Tuesday, May 7 at 4 PM CDT. Broker Participation is welcome.
The auction includes 18 bank owned parcels, plus one family owned adjacent parcel, selling as five separate properties. Property #1 offers 15 platted lots in Dodge Center, 12 lots are zoned residential and 3 lots are zoned commercial. The lots will sell together as one tract. Property #2 offers 3.81 acres of development land in Dodge Center with residential zoning and County Road 25 and Highway 14 interchange frontage. Property #3 offers 2.56 acres of development land zoned urban/ag land/ag productive. Property #3 is privately owned and is adjacent to Property #2. The owners feel a bidder can benefit from buying Property #2 and #3 simultaneously. Properties #1 through #3 are contiguous to one another. Property #4 offers a 0.514 acre corner lot, currently zoned urban/residential/Res 1-3 units. Zoning can likely be converted as the neighboring lots are commercial. Neighboring business include a new Casey's General Store and Subway Restaurant. Property #5 is the former A & W Restaurant in Pine Island. The 2,384 sq. ft. building sits on a 0.54 acre lot with Highway 52 visibility.
"The bank owned properties are owned by American Equity Bank with offices in Minnetonka and Claremont. The bank recently went through an ownership change and the new management is motivated to get these properties in the hands of new owners that will develop or reopen the properties," said Tyler Maas, Director of Sales & Marketing. "All properties are just minutes from Rochester and the new Destination Medical Center (DMC) which is the largest public-private economic initiative in Minnesota."
Bidders may view the land at their convenience or a staff member will be on-site at Property #5, the A & W Restaurant during the below times:
Monday, April 22    12 PM - 2 PM
Monday, May 6    12 PM - 2 PM
Details of the sale are available at the auction website, http://www.maascompanies.com or by contacting the auction company directly at 507-285-1444.
Share article on social media or email: